Here are the key statistics from the 2023 Oscar nominations:
– UK acting talent
This year represents the poorest showing by British actors in a decade.
Just two performers have received a nod: Bill Nighy in the best actor category for the period drama Living, and Andrea Riseborough for best actress, recognising her role in the gritty movie To Leslie.
This is the lowest number of UK nominees in the acting categories since 2013, when the total was also two.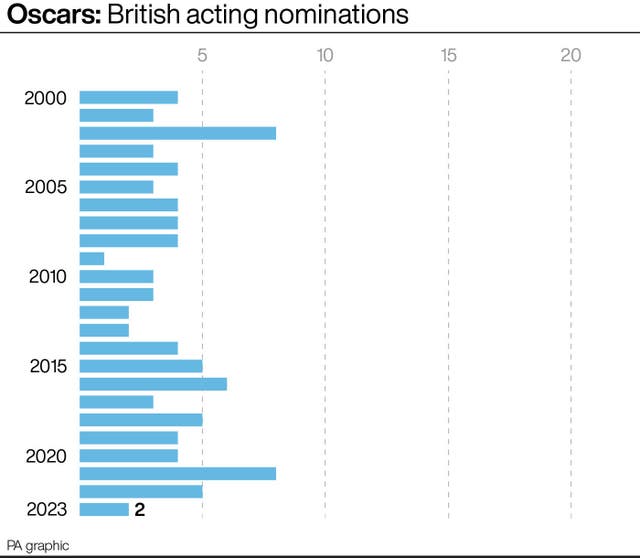 Last year the number stood at five out of 20.
The average since the start of the century has been four.
Despite 2023 offering slim pickings for the UK, it is still a personal milestone for both Nighy and Riseborough as it is the first time either has been nominated for an Academy Award.
– Ethnic diversity
2021 saw the most ethnically diverse acting nominations in the history of the Oscars, with non-white performers making up nine of the 20 acting nominees.
This year the total is six out of 20, up slightly from four in 2022.
All the people up for best actor are white, while there is just one non-white nominee for best actress: Michelle Yeoh, for Everything Everywhere All At Once.
Two of the five nominees for supporting actor are non-white: Brian Tyree Henry (Causeway) and Ke Huy Quan (Everything Everywhere All At Once).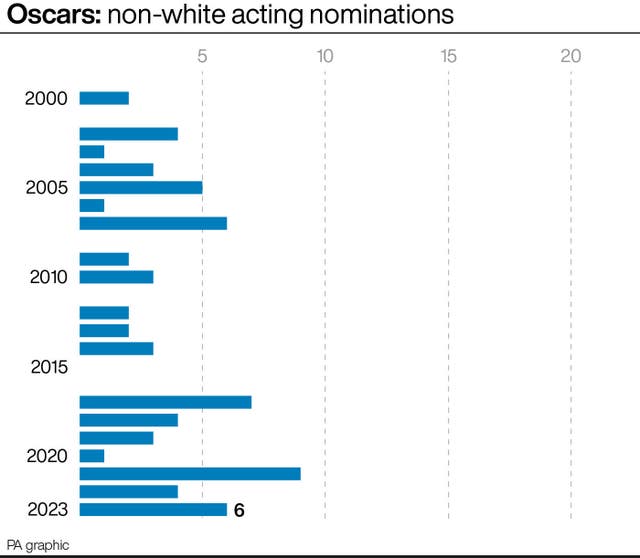 The 2023 list is at least more diverse than in 2020, when just one of the 20 nominees was non-white.
But it follows several years of criticism levelled at the film industry in both the US and UK for poor representation at award ceremonies of people from ethnic minority backgrounds.
In 2015 and 2016, there were no non-white performers nominated in any category at the Oscars.
More recently, in 2020 not a single non-white actor was nominated at the Bafta film awards.
The first non-white performer to win an acting Oscar was Hattie McDaniel, who was named best supporting actress in 1940 for Gone With The Wind.
There have been non-white winners in the acting categories 24 times: six for best actor, once for best actress, six for best supporting actor and 11 for best supporting actress.
– Gender diversity
There are no women up for the best director in 2023 – a step backwards from last year, when Jane Campion was nominated and won for The Power Of The Dog, and from 2021 when both Emerald Fennell (Promising Young Women) and Chloe Zhao (Nomadland) were picked, and when Zhao went on to win.
Campion was the first woman to be nominated twice for best director, with her first nomination coming in 1994 for The Piano.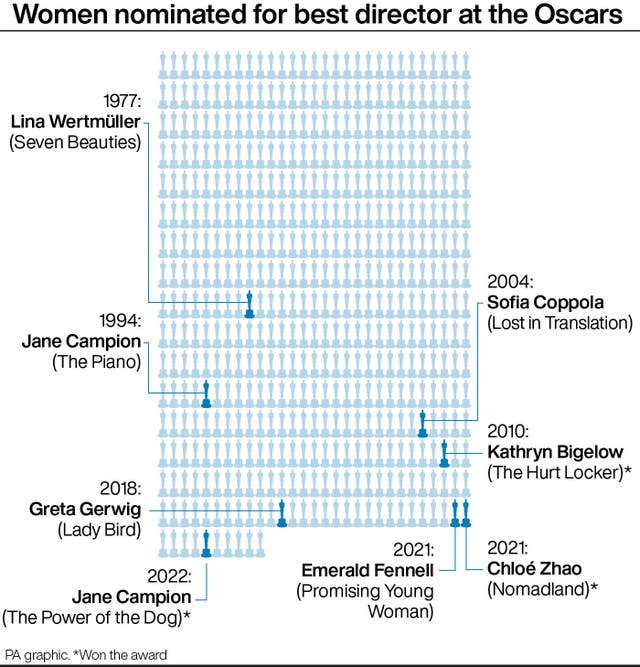 Along with Campion, Fennell and Zhao, they are Lina Wertmuller (for Seven Beauties in 1977); Sofia Coppola (Lost In Translation, 2004); Kathryn Bigelow (The Hurt Locker, 2010); and Greta Gerwig (Lady Bird, 2018).
Of the 10 movies nominated for best picture, one is directed by a woman: Women Talking, by the Canadian filmmaker Sarah Polley.
– Most nominations
The genre-breaking fantasy Everything Everywhere All At Once has the most nominations, picking up a total of 11.
Close behind is First World War epic All Quiet On The Western Front and dark comedy The Banshees Of Inisherin, both of which received nine.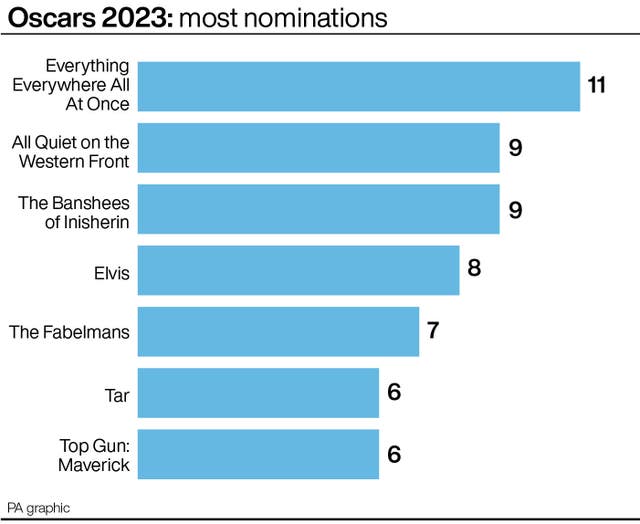 Two films that could not be more dissimilar, the intense drama Tar and action blockbuster Top Gun: Maverick, both picked up six nominations.
– First-timers
All of the five people up for best actor are receiving their first ever Academy Award nomination.
Along with Nighy, they are Austin Butler (for Elvis), Farrell (The Banshees Of Inisherin), Brendan Fraser (The Whale) and Paul Mescal (Aftersun).
Three of the five nominees for best actress have never been nominated before: Ana de Armas (Blonde), Michelle Yeoh (Everything Everywhere All At Once) plus Riseborough.
Four of the five people up for supporting actor are first-timers: Brendan Gleeson (The Banshees Of Inisherin), Brian Tyree Henry (Causeway), Barry Keoghan (The Banshees of Inisherin) and Huy Quan (Everything Everywhere All At Once).
A majority of nominees for supporting actress are also Oscar newcomers: Kerry Condon (The Banshees Of Inisherin), Hong Chau (The Whale), Jamie Lee Curtis (Everything Everywhere All At Once) and Stephanie Hsu (Everything Everywhere All At Once).
– Nationalities
A range of nationalities is represented on the 2023 acting list, with nominations for performers from Australia, Cuba, Ireland and Malaysia – along with the UK and United States.
Ireland is particularly well-represented and accounts for a quarter of all 20 acting nominations – with nods for Condon, Farrell, Gleeson and Keoghan (The Banshees Of Inisherin) plus Mescal (Aftersun).