Emma Willis, Oti Mabuse and Rylan Clark have reached the summit of Cairngorm mountain in Scotland, bringing an end to their Red Nose Day challenge.
Willis, Mabuse and Clark summited the snow-capped peak at 1245m above sea level on Saturday after spending the last three days climbing and wild camping in their bid to raise funds for Comic Relief.
The trio's original attempt to reach the peak was brought to a halt on Friday due to dangerous weather conditions closing in on the Scottish Highlands.
They were warned on Friday that any attempt to push ahead to the final peak could pose a danger to life due to 70mph winds and gusts up to 100mph expected at the summit.
As conditions improved overnight, expert guides deemed it safe to resume the challenge.
The celebrities set off from the village of Braemar, near Aberdeen, on Wednesday morning and made their way through the foothills of the Southern Cairngorms before setting up camp in windy conditions.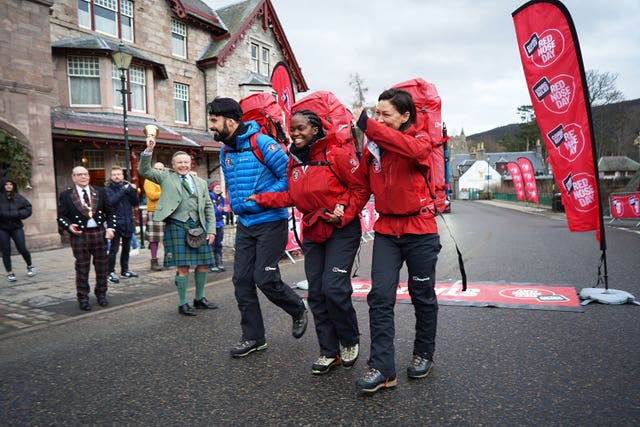 At 9am on Saturday morning, the team set off on their final 700m climb, feeling "completely exhausted" but "determined" to finish, according to a statement by Comic Relief.
Battling 70mph winds, freezing temperatures and aches from three days of hiking, the trio relied on crampons and ice axes to navigate the final metres of the climb.
Strictly Come Dancing: It Takes Two host Clark, 34, called the expedition "surreal".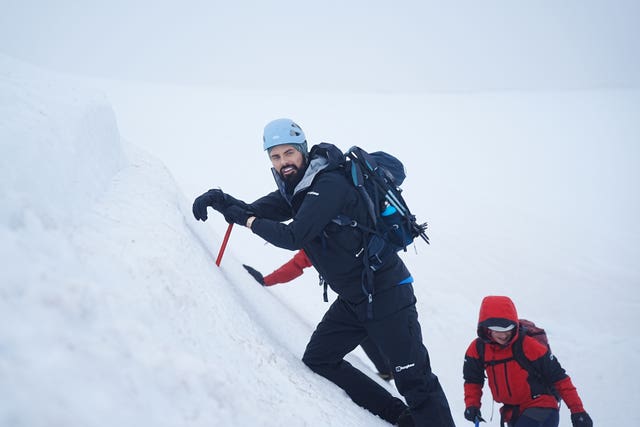 "For anyone thinking of sponsoring us, it would be hugely appreciated. Even if it's a £1, it can make such a difference. Massive thank you for all your support."
The Circle presenter Willis, 46, said: "Seeing the summit, I just felt overjoyed, and overwhelmed and just a massive sense of relief that we had actually achieved it.
"I felt so low yesterday, and deflated, and like we'd dropped the ball and let people down. So today it was euphoric – it felt immense, and I couldn't stop beaming.
"I thought I would cry when I got to the top, but I got all my tears out yesterday and I've just got the biggest smile on my face. I think it's going to be there for weeks.
"The whole thing has been tough. It's been mentally tough, it's been physically tough, it's been emotionally tough – but that's what we're here for. It's not a walk in the park, and it shouldn't be a walk in the park. We're here to do something hard to raise money and vital funds, for a charity that is helping a lot of people in times of crisis."
Dancing On Ice judge Mabuse, 32, also said she felt emotional upon reaching the summit.
She added: "I kept saying to myself you will do this, you have to do this, you will get to the top no matter how long it takes. I was constantly telling myself you're not getting off this mountain, you're going to the peak.
"The moment I saw the summit I felt this rush of emotion, you get this new push of air. I felt so happy and felt a real sense of achievement. It leaves you feeling like you can achieve anything that you put your mind to."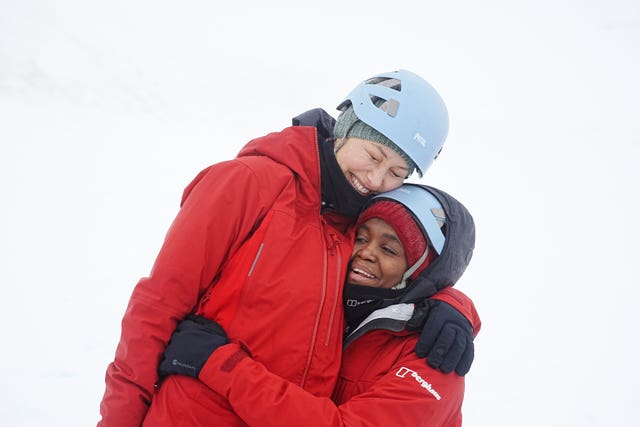 He added: "Gusts of 50mph with average wind of 40mph made even the first part of the climb hazardous as there is less stability, making progress slow and draining energy so quickly. It was a tough, relentless slog in cold conditions at the end where they were fortunate enough that the wind dropped long enough for them to attempt the summit. This is a fantastic achievement and one they should be exceptionally proud of."
Donations can still be made at comicrelief.com/frozen.
The trio's adventure has been filmed for a documentary, Frozen: Emma, Oti And Rylan's Red Nose Day Challenge, which will air on BBC One and iPlayer in the run-up to Red Nose Day.
Money raised for Comic Relief's Red Nose Day will help the cost-of-living crisis and tackle issues such as homelessness, mental health problems, and food poverty in the UK and across the world.
A portion of the money raised will also go towards the emergency response to the earthquake in Turkey and Syria.
– Red Nose Day returns to BBC One on March 17 with hosts AJ Odudu, David Tennant, Joel Dommett, Paddy McGuinness and Zoe Ball.