Rihanna appeared to reveal her second pregnancy during her highly anticipated headline slot at the 2023 Super Bowl halftime show.
The Barbadian singer chose not to bring on any special guests to join her for an electrifying show at the State Farm Stadium in Glendale, Arizona.
She kicked off the live performance, her first in seven years, suspended high above the stadium, dressed in all red.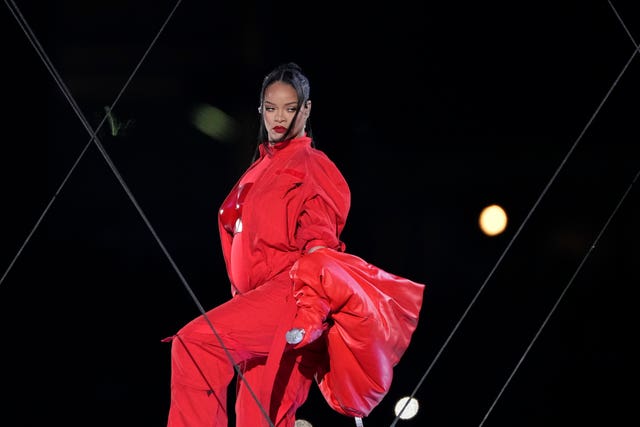 Rihanna previously hinted that the performance would be a family affair, saying that it was "important" for her son to watch it.
In a separate interview with Total Access NFL, she said she was "thinking about bringing someone".
Fans were treated to a selection of hits from her catalogue, including Bitch Better Have My Money, We Found Love and Umbrella, as well as two tracks she recorded with controversial rapper Kanye West – played back to back.
West, who has recently come under fire over a series of antisemitic remarks, featured on Run This Town, which was written by Jay Z.
Rihanna also sang on his track All of The Lights, which is included on 2011 album My Dark Twisted Fantasy.
Throughout the performance Rihanna commanded the stage, strolling up and down amid an army of dancers dressed in white hoodies and sweat pants – at one point stopping to touch up her make-up.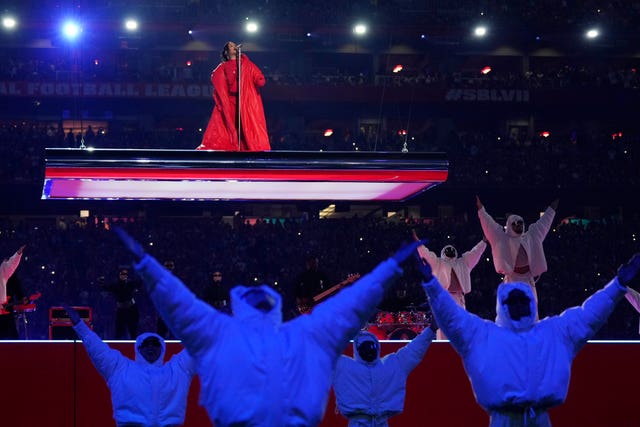 Rihanna previously said that the "biggest challenge" for the 13-minute show had been curating the setlist – creating around 40 versions.
Other hit songs included on Sunday were Only Girl in the World, Rude Boy, Work, Wild Thoughts.
Speaking ahead of the show, Rihanna said there was "something exhilarating" about the challenge of the performance, and that following the birth of her son she felt like she could "take on the world".
"You can do anything, and the Super Bowl is one of the biggest stages in the world.
"So as scary as that was, because I haven't been on stage in seven years, there's something exhilarating about the challenge of it all.
"And it's important for me to do this, this year it's important for representation and it's important for my son to see that."
Rihanna welcomed her first child – a boy – with partner Asap Rocky in May.