A former BBC executive has said there is "a lot of confusion" around whether freelance broadcasters such as Gary Lineker, who do not work in news, should be subject to the same rules as permanent staff.
The corporation said it has "decided" Lineker, who is embroiled in a row over impartiality after comparing the language used to launch a new Government asylum policy with 1930s Germany, will step back from Match Of The Day (MOTD) until an "agreed and clear position" on social media use is made.
Richard Sambrook, who was director of news at the BBC and director of BBC Global News and the BBC World Service, told the PA news agency "impartiality is crucial" for the BBC and staff in "everything they do".
However, he said it is "not clear" whether rules on social media – which is viewed like BBC content and as having the same editorial guidelines and editorial oversight for staff at the corporation – apply to Lineker.
Mr Sambrook added: "For a sports presenter in their personal life to express views that aren't impartial, is not as serious as if it was a news journalist.
"I think there's quite a lot of confusion about the extent to which the impartiality guidelines extend outside of news and extend to freelancers rather than staff, and until that's cleared up we're going to go on having these kinds of (problems)."
BBC director-general Tim Davie warned staff about their use of social media when he took on the role at the end of 2020.
Lineker – who is a freelance broadcaster for the BBC, not a permanent member of staff, and is not responsible for news or political content so does not need to adhere to the same rules on impartiality – was commenting on a video by Home Secretary Suella Braverman in which she said the UK was "overwhelmed" by migrants.
The 62-year-old ex-England striker wrote: "There is no huge influx. We take far fewer refugees than other major European countries.
"This is just an immeasurably cruel policy directed at the most vulnerable people in language that is not dissimilar to that used by Germany in the '30s."
Mr Sambrook said he thinks the language Lineker used was "unnecessarily provocative", but the "wider question" is about BBC policy in the age of social media and the corporation "recalibrating" its relationship with freelancers.
Former head of BBC television news Roger Mosey told Sky News that "normally" this type of impartiality issue would go through the BBC's editorial process and he would "hope" Lineker would do that.
He added: "You'd have hoped they might have come to a happier conclusion, though I've always been pessimistic because I can see that both sides are getting dug in."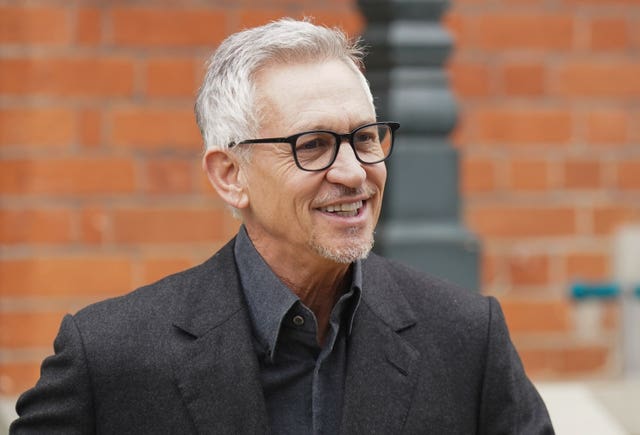 However, former Conservative ministers Lord William Hague, Sir John Whittingdale and Nadine Dorries have appeared to welcome the news.
Former Tory leader Lord Hague told Times Radio the decision was "appropriate" as Lineker "broke the guidelines", while former culture secretary Sir John told BBC Radio 4's PM programme the move was "inevitable".
"News that @GaryLineker has been stood down for investigation is welcome and shows @BBC are serious about impartiality," TalkTV host and former culture secretary Ms Dorries also tweeted.
Presenter Richard Osman, who hosts the BBC show Richard Osman's House Of Games and formerly BBC One's Pointless, told his followers on Twitter the decision "is pathetic for so many reasons".
Henry Winter, the chief football writer for The Times who has regularly appeared on the BBC's Radio 5 Live, said the broadcaster should be "ashamed" and added "good people" at BBC football "deserve better".
Former Manchester City defender Micah Richards and former footballer Jermaine Jenas, who were both not due to appear this weekend on MOTD, have backed fellow pundits Ian Wright and Alan Shearer's decision to boycott the BBC show on Saturday.
Elsewhere, Channel 5 News presenter Dan Walker said on air that Lineker had told him "(the BBC) told me I have to step back" and he "is not apologising for what he's said".
A spokesperson for the BBC said the broadcaster had been "in extensive discussions with Gary and his team in recent days" and see his social media activity as a "breach of our guidelines".
They added: "The BBC has decided that he will step back from presenting Match Of The Day until we've got an agreed and clear position on his use of social media."