The UK could struggle to win big at Sunday's Academy Awards, with most chance of success likely to come in categories for achievement off screen.
Just two British performers have received a nod: Bill Nighy in the best actor category, for the period drama Living, and Andrea Riseborough for best actress, recognising her role in the gritty movie To Leslie.
This is the lowest number of UK nominees in the acting categories since 2013, when the total was also two.
It is a sharp contrast with 2021, when the UK accounted for nearly half (eight) of all the 20 acting nominations.
Last year the number stood at five out of 20.
The average since the start of the century has been four.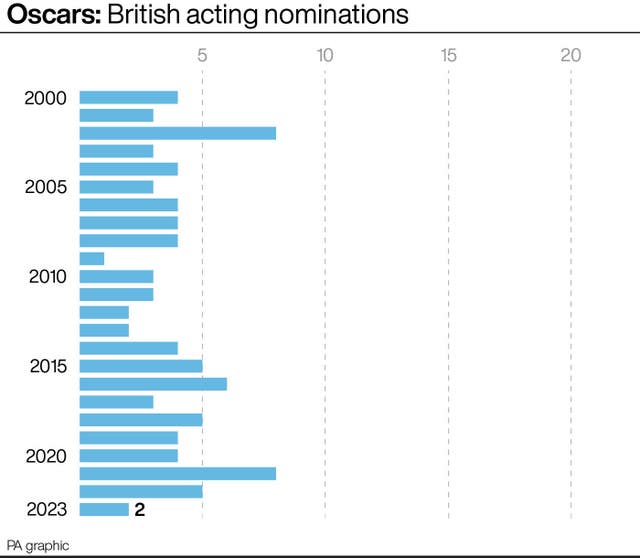 By contrast, Ireland is particularly well-represented and makes up a quarter (five) of all 20 acting nominations, with nods for Kerry Condon, Colin Farrell, Brendan Gleeson and Barry Keoghan (for The Banshees Of Inisherin) along with Paul Mescal (Aftersun).
Success for both the UK and Ireland may come in the shape of the film-maker Martin McDonagh, who has joint British-Irish nationality and who has been nominated for both best director and best original screenplay for The Banshees Of Inisherin.
McDonagh's dark comedy, set in 1920s Ireland, is a joint production by UK, Irish and US companies, and is also in the running for best film.
Two veterans of the UK film industry have been nominated in the technical categories: Sir Roger Deakins, for best cinematography (Empire Of Light), and Jenny Beavan, for best costume design (Mrs Harris Goes To Paris).
This is Sir Roger's 16th Oscar nomination for cinematography, his first coming in 1995 for The Shawshank Redemption, and he has won the award twice: in 2018 for Blade Runner 2049 and in 2020 for the film 1917.
Beavan has been nominated for an Oscar 12 times, with her first coming in 1985 for The Bostonians, and has won three times: A Room With A View (1987), Mad Max: Fury Road (2016) and Cruella (2022).
Other British hopefuls in the non-acting categories include Eddie Hamilton, up for best editing for his work on Top Gun: Maverick; and Mark Coulier, nominated as part of the make-up and hair team for Elvis.
The UK is represented in two nominations for best adapted screenplay, with nods for Sir Kazuo Ishiguro (Living) and Lesley Paterson, who is jointly nominated for her work on All Quiet On The Western Front.
There are also nods for British talent in four of the five films up for best sound, while two UK co-productions have been nominated for best animated short film: The Boy, The Mole, The Fox And The Horse; and Ice Merchants.