Hugh Grant joked he resembled "a scrotum" while stood next to Andie MacDowell as the pair delighted audiences by reuniting on stage at the Oscars nearly 30 years after the release of Four Weddings And A Funeral.
The duo presented the award for best production design at the 95th Academy Awards on Sunday, three decades after starring in Richard Curtis's 1994 romantic comedy that depicted Grant's bumbling character Charles vying for the attention of Carrie, played by MacDowell, 64.
"We're actually here to do two things," Grant said.
"First is to raise awareness about the vital importance of using a good moisturiser.
"Andie's been wearing one every day for the last 29 years, I've never used one in my life.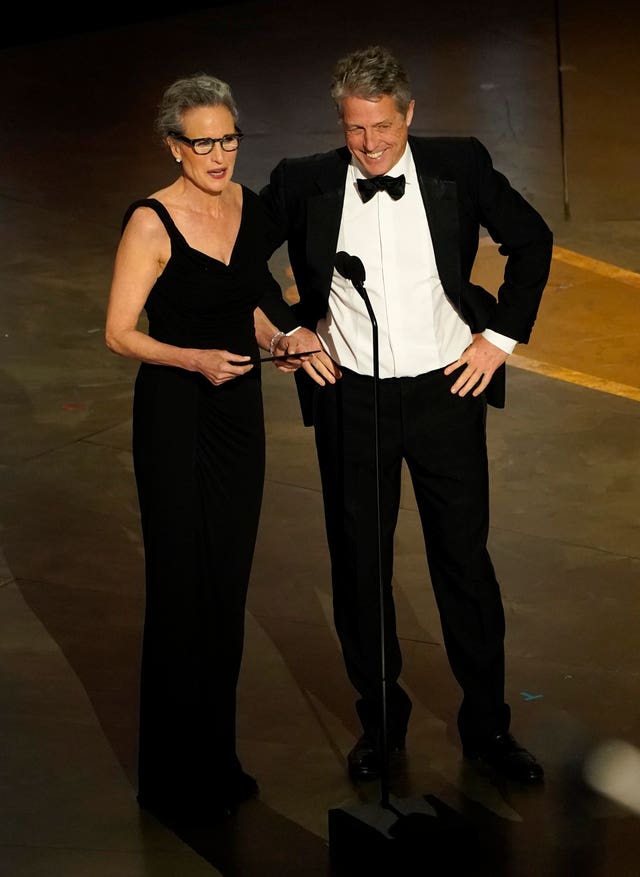 "Basically a scrotum," he said of himself, which was met by laughs across the Dolby Theatre.
"What are you doing?" his co-star retorted.
The second thing, they went on to clarify, was to present the award for best production design – which went to Netflix's All Quiet On The Western Front.
At the 67th Academy Awards in 1995, Four Weddings And A Funeral received nominations for best picture and best screenplay.
Earlier in the night on Sunday, Grant spoke with model Ashley Graham in what People Magazine called "a brief, awkward interview".
He described the event as "vanity fair" and told Graham he was excited to see "no one in particular."
He also admitted that he could not remember the name of his tailor when Graham asked him about who designed his outfit, before she asked him about filming his cameo in Rian Johnson's Glass Onion: A Knives Out Mystery.
"I'm in it for three seconds."
And when Graham probed him on whether he had fun filming the project, he responded: "Almost."