Jimmy Kimmel has kicked off the 95th Academy Awards joking about fights starting on stage, referencing Will Smith slapping Chris Rock at last year's ceremony and poking fun at the Irish talent nominated.
The US comedian, 55, opened the ceremony with footage of him in a cockpit of a fighter jet flown by Top Gun: Maverick star Tom Cruise with the Hollywood actor demanding Kimmel eject before he "parachuted" on stage.
Here is what Kimmel joked about in his opening monologue: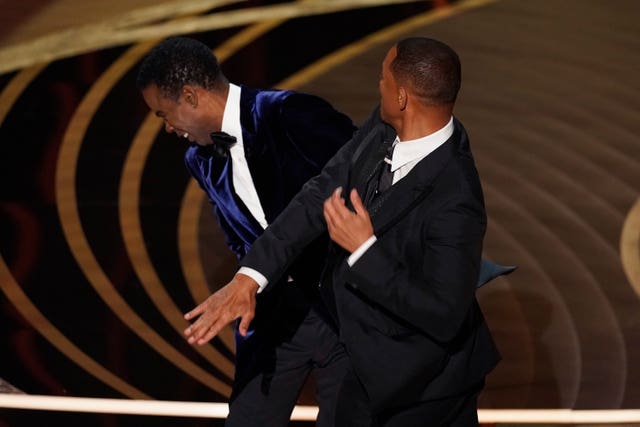 He said: "We know this is a special night for you, we want you to have fun, we want you to feel safe, and most importantly, we want me to feel safe. So we have strict policies in place, if anyone in this theatre commits an act of violence at any point during the show, you will be awarded the Oscar for best actor…and be allowed to give a 19-minute long speech.
"No, but seriously the Academy have a crisis team in place, if anything unpredictable or violent happens during the ceremony, just do what you did last year, nothing. Maybe even give the assailant a hug.
"And if any of you get mad and decide you want to come up here and get 'Jiggy Wit It', it's not going to be easy, (there are) a few of my friends you are going to have to get through first.
"You have to get through the heavyweight champ Adonis Creed (Michael B Jordan) before you get to me, you have to get through Michelle Yeoh before you get to me, you are going to have to beat the Mandalorian (Pedro Pascal) before you get to me, you're going to have to tangle with Spider Man (Andrew Garfield), you're going to have to tackle the Fabelman (Steven Spielberg), and my right hand man Guillermo, the other Guillermo not del Toro. I know he's cute but if you so much as wave at me, that sweet little man will beat the Lydia Tar out of you.
Ireland
Kimmel also referenced the Smith Rock slap at last year's ceremony, telling the audience: "It was some year for diversity and inclusion. We have nominees from every corner of Dublin. Five Irish actors are nominated tonight which means the odds of another fight on stage just went way up."
Diversity
Kimmel also spoke about Hollywood stars Danielle Deadwyler and Viola Davis being snubbed of Oscar nominations at this year's awards.
He said: "While we are on the subject of diversity, I want to say especially to those of you watching at home, there are a number of excellent films and performances that were not nominated tonight, including Till and The Woman King which are both based on true stories with great performances from Danielle Deadwyler and Viola Davis, very worthy of your time if you haven't seen them."
Kimmel said: "The movie that saved the movies. Everyone loved Top Gun, everybody. Tom Cruise with his shirt off in that beach football scene, L Ron (Hubbard) hubba hubba. You know what I'm saying. You know Tom and James Cameron (Avatar director) didn't show up tonight, two guys who insisted we go to the theatre, didn't come to the theatre.
"So if you're hoping to get a look at Tom Cruise, he is not here."
Pointing to filmmaker Spielberg, Kimmel added: "Or maybe he is here, maybe that's Tom Cruise right there wearing a mission impossible mask. There's only one way to find out for sure."
Elvis
Kimmel also directed a joke at best actor nominee Austin Butler who was sat in the crowd.
He said: "As a first time nominee he was so convincing as Elvis, still is.
"You are so talented, I know Elvis would have loved your performance, in fact according to my online reddit page, he did."