Rishi Sunak must "stand up to his snowflake MPs waging war on free speech" following the Gary Lineker row, Sir Keir Starmer has said.
The Labour leader sought assurances that Conservative MPs or others connected to the party did not lobby the BBC to "effectively cancel" Match of the Day last weekend.
Mr Sunak accused Sir Keir of the "usual political opportunism" and insisted he cares about the integrity and impartiality of the country's institutions, including the BBC.
He also welcomed the return of Match Of The Day this weekend.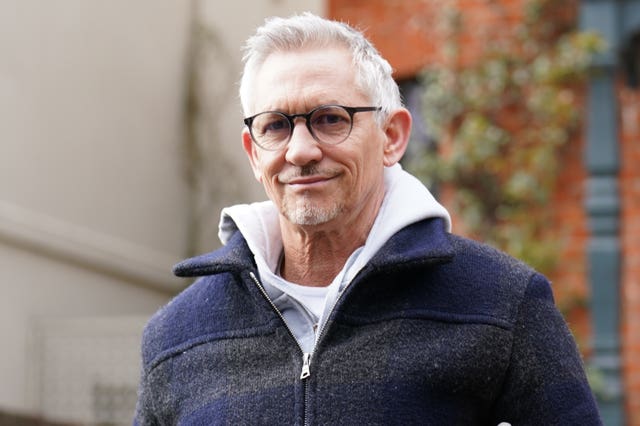 He was later reinstated, and the BBC apologised and committed to review its social media guidelines.
Speaking at Prime Minister's Questions, Sir Keir said: "Last summer the Prime Minister claimed he wanted to protect free speech and put a stop to no platforming.
"So how concerned was he by last week's campaign by Tory MPs to cancel a broadcaster?"
Mr Sunak replied: "As I said at the time, the issues between Gary Lineker and the BBC were for them to resolve and I'm very glad that they did and we can look forward to watching Match Of The Day again on our screens."
"That should have been laughable, instead it led to a farcical weekend with the national broadcaster being accused of dancing to the Government's tune by its own employees.
"Rather than blame everyone else why doesn't he take some responsibility, stand up to his snowflake MPs waging war on free speech?"
Mr Sunak replied: "Just the usual political opportunism from the leader of the Labour Party.
"I don't know if he noticed, but actually first the shadow attorney general and then the shadow home secretary actually criticised the language that had been used in the tweet, but what a surprise he saw the chance to jump on a political bandwagon and changed his mind."
Sir Keir later turned his questions towards BBC chairman Richard Sharp, who is subject to an ongoing review after it emerged he had helped former prime minister Boris Johnson secure an £800,000 loan facility.
Sir Keir described Mr Sharp as "no ordinary Tory donor", adding: "He is so close to the Prime Minister he has been described as his mentor.
"He helped to arrange an £800,000 credit line for the former prime minister (Boris Johnson), a minor detail he forgot to tell the select committee which scrutinised his appointment.
"Does the Prime Minister think that his friend's position is still tenable?"
The Prime Minister insisted the review process was "independent", adding: "Instead of pre-judging, and pre-empting that review we should let it conclude and wait for the outcome."
Sir Keir went on: "When people with links to the Tory Party somehow find themselves in senior positions at the BBC, it's important their impartiality is seen to be beyond reproach.
Mr Sunak replied: "These are matters for the BBC to resolve and it's right that the BBC, as an important institution, takes its obligations to impartiality seriously."
In a nod to Labour's planned appointment of former senior civil servant and partygate investigator Sue Gray, Mr Sunak said: "I care about the integrity and impartiality of our institutions, the BBC, but also the civil service and it's right that those processes carry on properly."
Sir Keir, in his concluding remarks, said: "He comes here today with his mealy-mouthed platitudes pretending the actions of his party are nothing to do with him.
"But the whole country saw how he kept quiet and hid behind the playground bullies while they tried to drive someone out simply for disagreeing with them.
"An impartial public broadcaster free of Government interference is a crucial pillar in our country, but isn't that put at risk by the cancel culture addicts on his benches, a BBC leadership that caves into their demands and a Prime Minister too weak to do anything about them?"
Mr Sunak replied: "We're not going to take any lectures on cancel culture from the party opposite."
He added to Sir Keir: "The only thing he and has party has done is voted against our Bill to stop the boats.
"Siding with people smugglers over the British people – that's the substance of what's happened."
Mr Sunak went on to highlight the UK's new migration deal with France and a boost for defence spending.