Well-wishers turned out from as far away as Chester to pay their respects to Paul O'Grady as his coffin moved through the Kent village where he made his home.
Thousands lined the streets of Aldington, Kent, to see the coffin of the comedian and TV stalwart as it moved from his home to the church where his funeral is taking place in nearby Bonnington.
Four dogs from Battersea Cats & Dogs Home- cavapoochon Barney, chihuahua Betty, Labrador Elsie and shih tzu cross Digby – also watched the procession pass through.
"I met Paul. He was just such a warm, kind and genuine person. He met Barney and Betty. There was absolutely no difference with Paul when the cameras were rolling and when they were off. 
"Paul just found the joy in what we do and we were always laughing and joking with him. It has been really overwhelming to be here, seeing that so many people and dogs have come to honour Paul because he looked after us so well. It is very special to be a part of it."
One woman, who did not want to be named, told the PA news agency she had travelled from Chester on Wednesday with her two half-poodles Gertrude and Theodore and stayed in a hotel overnight to be there to watch the procession.
"I was supposed to go and see him soon but sadly he died before I was ever able to see him.
"I think he was just a lovely guy. He was such a wonderful person and I have followed him all my life.
"I waited and waited to go and see him but I waited too long. I decided I would seize the day so I didn't have any more regrets.
"Being here is about feeling confident and strong because he was that person. When my daughter said she couldn't get the time off work to go I thought: 'I am going anyway.'
Retired nursery nurse Bridget Baker, 69, told PA: "He was a good person. You could always have a laugh with him. Everything was funny.
"He was always just genuine. I knew him a bit – he was just a lovely, friendly guy."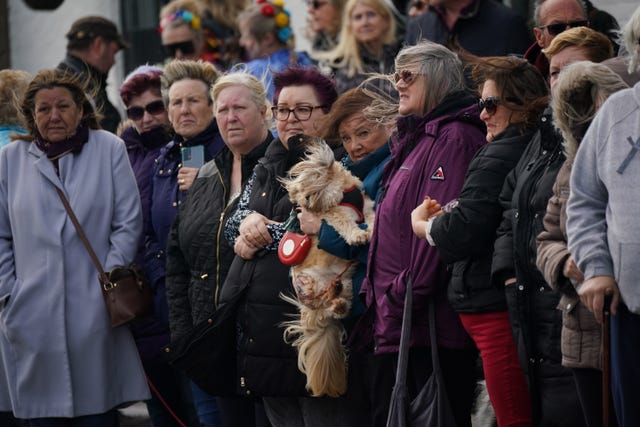 "I would see him in Tesco and Waitrose and walking through the village, he would wave to you like he was your neighbour."
Chris Healy, 73, explained how she had met O'Grady at the Royal Vauxhall Tavern 40 years ago when he was performing as Lily Savage.
She travelled from West Malling in Kent to see the procession and told PA: "He was brilliant. He was up on the stage and I was laughing with him.
"I hope the funeral will achieve a lot for Battersea Cats & Dogs Home because he was so dedicated to them."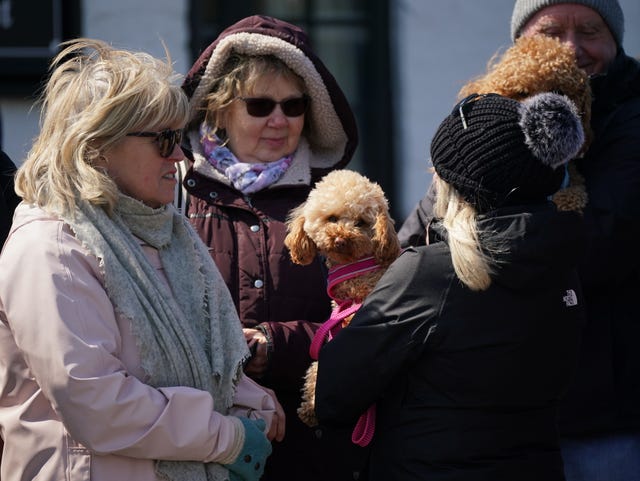 "I didn't know him, I have just followed him for many years. It shows that so many people have turned out. He touched people.
"He chose a very good village, a private village which gave him his privacy where many others would not have done."
Joyce Hughes, 79, and her daughter Tina Larkin, 59, told PA: "He was really nice and friendly. He was a very nice man and would talk to everyone.
"He was so popular, especially with the children. He was just warm and did a lot for the village."