Hilary Mantel was "a treasure of this nation", the Dean of Southwark Cathedral has said at a celebration of the writer's life.
The British writer, who died last September aged 70, was best known for the Wolf Hall trilogy about the life of Thomas Cromwell.
The event, held at Southwark Cathedral on Thursday, included readings from actors Mark Rylance and Ben Miles, as well as writer Zadie Smith.
Comedian David Baddiel was also among those paying their respects.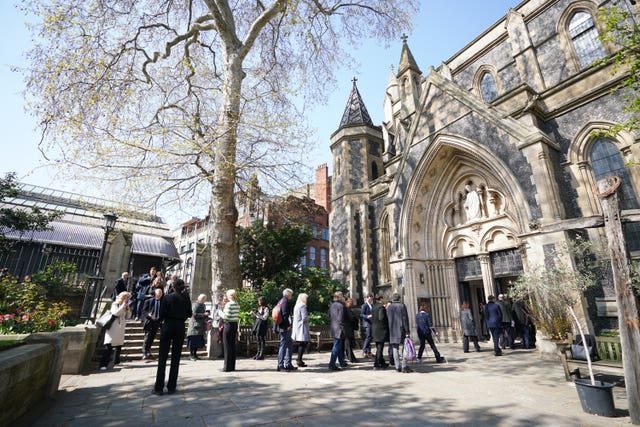 "And not just the Tudors, but everyone of whom she wrote.
"She seemed to have that knack of being able to get to the inside of people. And that was what made her such a popular writer, and the treasure of this nation."
Dame Hilary won the Booker Prize first for her 2009 novel Wolf Hall and again for its sequel, Bring Up The Bodies, in 2012.
She concluded the trilogy in 2020 with The Mirror & The Light to critical acclaim, winning the Walter Scott Prize for Historical Fiction, which she first won for Wolf Hall.
It was later adapted for the stage and screen, with the BBC developing the story into a TV series which was first broadcast on BBC Two in 2015, starring Sir Mark Rylance as Cromwell.
The series was a critical success and won a string of awards including three Baftas and a Golden Globe.
The Royal Shakespeare Company put on productions of the first two books in 2013, and in 2021 The Mirror & The Light was staged in London, having been adapted by Dame Hilary, with Ben Miles playing Cromwell.
Miles, who also worked with Dame Hilary on the playscript for the third instalment, paid tribute during the event, saying she was a "close ally" in "our collective quest for the weird, the unseen, the otherness of things".
He added: "It is an immeasurable gift to have known her, and to have worked alongside her."
Sir Mark reprised his TV role with a reading from Wolf Hall.
White Teeth author Zadie Smith read an extract from Dame Hilary's Reith lectures, titled How I Began Writing.