Tom Bradby will front ITV's coverage of the coronation alongside Julie Etchingham, the broadcaster has announced.
The ITV News at Ten anchor, a close friend of the Duke of Sussex, will lead proceedings on Saturday May 6 from a special studio outside Buckingham Palace.
ITV has also enlisted presenters Mary Nightingale, Nina Hossain, Charlene White and James Mates, who will be stationed at key locations during the six-hour-plus broadcast.
The programme will form the centrepiece of a week of coverage spanning daytime and documentaries, and will compete against the BBC's coverage, led by Kirsty Young and Huw Edwards, and Sky's, which will feature Dame Joanna Lumley.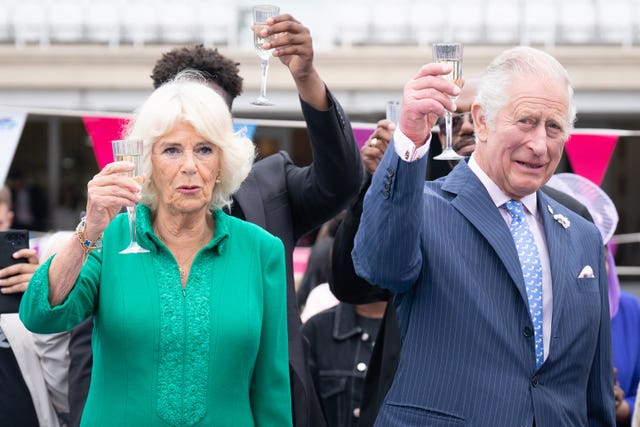 Lorraine will host guests including Lady Glenconner, who was a maid of honour at the Queen's coronation and a lady-in-waiting to Princess Margaret for many decades.
On Friday, the day before the event, the programme will be dedicated entirely to coronation content, including the best food for street parties and fashion looks.
This Morning will join forces with Coronation Street for a live 150-minute episode, presented by Friday hosts Alison Hammond and Dermot O'Leary from the fictional town of Weatherfield.
For Loose Women, the studio will be transformed into a "great British garden party".
Kate Garraway will be live from Buckingham Palace, Charlotte Hawkins will be with the armed forces and Laura Tobin will be live from the Long Walk in Windsor.
Guests will include Spice Girl Mel B and Jonathan Dimbleby.
From 8.30am, Bradby and Etchingham will present King Charles III: The Coronation on ITV1 from a studio outside Buckingham Palace.
There will be commentary from Nightingale outside Westminster Abbey and Mates will explain the ancient traditions and rituals shown on screen.
Hossain will be with the crowds at the Mall and White will report from RAF Waddington where the Red Arrows will be preparing for a flypast.
A dedicated section of ITVX will feature documentaries from the broadcaster's catalogue about the monarch.
Michael Jermey, ITV's director of news and current affairs, said: "ITV's uninterrupted coverage on coronation day will capture every significant moment of an historically important event.
"We will provide viewers with a close-up view of all the pageantry and public celebration.
"Our guests will reflect a range of views on what the new reign will mean for Britain and the Commonwealth."
Emma Gormley, managing director ITV Daytime, said: "The coronation of HM King Charles III is a once-in-a-lifetime television event and here at ITV Daytime we're producing many hours of bespoke content, as well as special standalone shows, to celebrate and commemorate this historical occasion with our audience, both at home and globally."
On the day Charles is crowned, Channel 4 will have an alternative schedule that the broadcaster said "will provide an escape from the pomp and ceremony".
Its wider schedule will include a documentary focusing on the Duke of York's Newsnight interview.