Eurovision Song Contest presenter Julia Sanina will be dressed head to toe in designs from her home country of Ukraine as she takes to the stage at this year's final.
The frontwoman of rock band The Hardkiss promised to bring Ukrainian fashion to the contest, which is being hosted by Liverpool on behalf of the country as the Russian invasion continues.
She said: "My outfits will be all made in Ukraine. All from Ukrainian designers, from shoes to jewellery to dresses, suits. I would love to bring some Ukrainian fashion into it."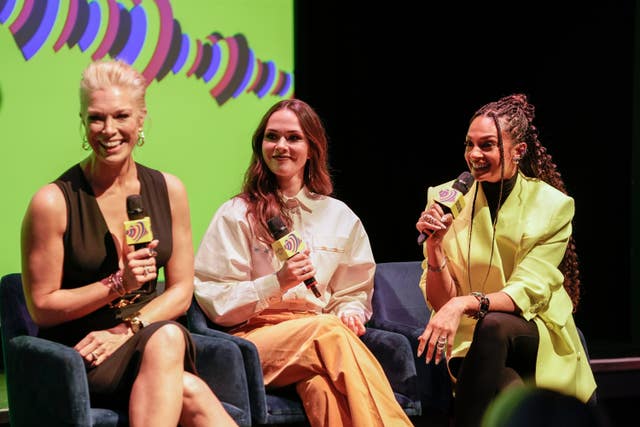 Dixon said: "Could you imagine if we rocked up in a white vest and jeans?
"I think it's an opportunity to have some fun.
"All of us love our fashion, love our clothes, so we're going to have fun with it."
The three women met for the first time on Wednesday, at a press launch for the contest, but said there is already a chemistry between them.
Sanina said: "We're so different – different energies, different moods, different chemistry – but all together I think it will work great."
Dixon added: "I feel so lucky that we get to host as a group of girls together, it feels really empowering."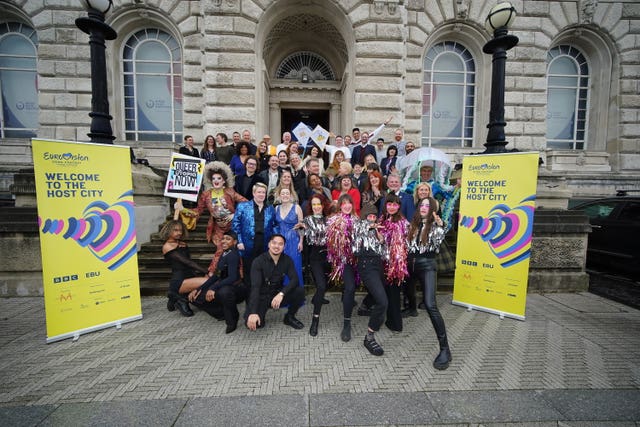 She said: "It's a moment for everyone to just have, one, the biggest party, two, display their phenomenal talents, and, it sounds like a cliche, but to bring love and tactility and all of those things back to the foreground."
Dixon said: "Everybody's included, everybody's invited, everybody can be a part of it, and that's really rare so we should celebrate it."
Sanina said she is feeling the nerves more than her co-hosts as the only Ukrainian presenter on stage for the evening.
"Everybody's watching Eurovision from year to year in Ukraine and everybody will watch it, definitely, no matter what," she said.
"It's so important for people just for a couple of hours to forget about the reality that we have nowadays and to feel that joy and to feel that happiness with everybody in the world, to come together, to feel that support of the world.
"For us it's very important to feel that support and love."
Waddingham praised UK entry Mae Muller, saying: "She is so charismatic, aside from having a stonking voice.
"Every time I see her perform I'm just like 'This girl is not mucking around, she's here to be noticed and acknowledged'."
But the women said that, as hosts, they will remain impartial.
Dixon added: "We are the mothers to all of the acts – no, we're the sisters!"
She said: "People in Liverpool are front-footed, they care, they're passionate. No messing about.
"Maybe that's where I get my front foot from… my mum's from the Isle of Man and I have family in Liverpool so I feel like I've, a little bit, come home."
Dixon added: "There's so much going on, so many events, so lots of people that haven't got the opportunity to come to the show, there's so many things for them to do here. From what I've seen, Liverpool has just embraced it.
"We can't wait. It's just going to be like nothing we've ever experienced before."