A veteran of stage and screen, Barry Humphries entertained generations with the high camp of his Dame Edna Everage alter ego and as the lecherous Sir Les Patterson.
The Australian multi-hyphenate may be best known for playing those characters across a seven-decade career, but his talents also extended into script writing and film producing.
He was regarded by some critics as the most significant comedian to emerge since Charlie Chaplin and lived a life as colourful as his characters.
In his stable of alter egos, he also had the gentlemanly Sandy Stone, 1960s underground film-maker Martin Agrippa, sleazy trade union official Lance Boyle and archetypal Australian bloke Barry McKenzie among many others.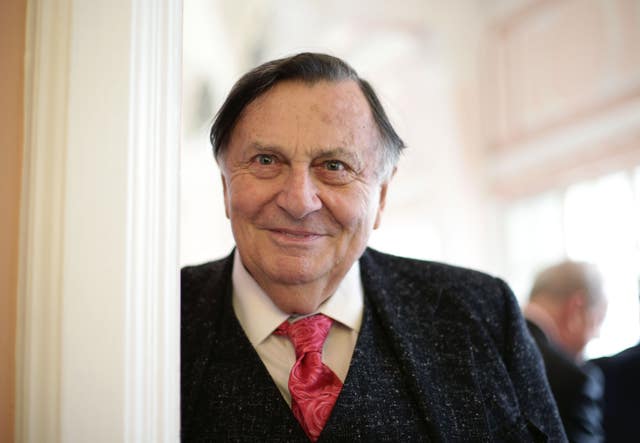 Both his parents distrusted art and he soon rebelled, creating his very first character, the Dadaist and agent provocateur Dr Aaron Azimuth, while still an adolescent.
He spent two years at the University of Melbourne, where he studied law, philosophy and fine arts, and embraced Dadaism in full.
The pranks and performances he mounted during this period helped solidified his reputation on the comedy circuit.
One infamous example involved Humphries dressing as a Frenchman, with an accomplice dressed as a blind person.
The accomplice would board a tram, followed soon after by Humphries, before he would turn and violently kick the "blind" man in the shins, shouting, "Get out of my way, you disgusting blind person" before making his escape in a waiting car.
It was when he joined the newly formed Melbourne Theatre Company that his most memorable character was formed, Dame Edna Everage.
Originally a drab Melbourne housewife satirising Australian suburbia, Dame Edna evolved into an increasingly boisterous and eccentric character, with "wisteria hue" hair and cat eye glasses.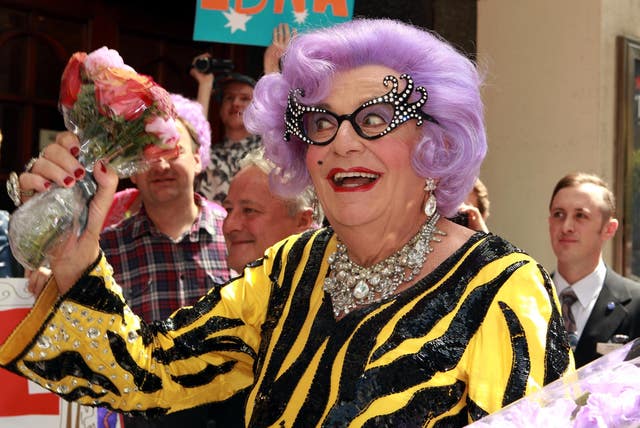 He became a friend of leading members of the British comedy scene, including Dudley Moore, Alan Bennett and Spike Milligan.
Humphries contributed to Private Eye magazine, most notably to the cartoon strip The Wonderful World Of Barry McKenzie about a "randy, boozy Australian rampaging through Swinging London".
In 1970, Humphries returned to Australia, where Dame Edna Everage made her film debut in John B Murray's The Naked Bunyip.
The next year, he created a film version of the Barry McKenzie cartoons.
But in London, he had become increasingly dependent on alcohol and upon returning to Australia, his parents admitted him to a private hospital.
After a particularly heavy binge, he was found unconscious in a gutter.
Since then he abstained from alcohol completely and regularly attended Alcoholics Anonymous meetings.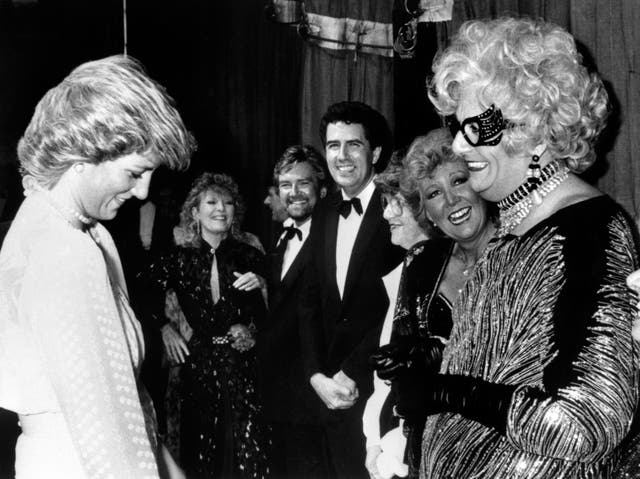 Typically more than two-and-a-half hours long, they featured impersonation, musical numbers, improvisation and, of course, his myriad characters.
In 2003, Humphries voiced the shark Bruce in Pixar's Finding Nemo, using an exaggerated Australian accent.
And in 2011, he travelled to New Zealand to perform the role of the Goblin King in the first instalment of Sir Peter Jackson's adaptation of The Hobbit.
In March 2012, Humphries announced his retirement from live entertainment, stating that he was "beginning to feel a bit senior", but promised an extensive farewell tour, which was later extended.
Humphries married four times.
He has two daughters and two sons from his second and third marriages.
A self-proclaimed "bibliomaniac", his house in West Hampstead was reported to have contained some 25,000 books, including many first editions from the late 19th and early 20th centuries.
In 2022, he appeared on UK stages as he toured with Barry Humphries: The Man Behind the Mask, described as a "revelatory trip through his colourful life and theatrical career".
He said: "This is a show in which I am the principal character; it's not Les, it's not Edna, it's not Sandy Stone. It is really about this character called 'me'. I'm not in disguise.
"It is the story of my generation, it is a story of a life spent in the theatre and a life spent in comedy, and it will show what it is like to be a clown.
"In a way, this is perhaps the bravest thing I've ever done, and I hope the most entertaining. I think people might be agreeably shocked and they certainly will learn much they didn't know."
According to a report by The Sydney Morning Herald, Humphries suffered a fall while in Sydney in the early months of this year, resulting in a hip replacement for the 89-year-old.
The publication quoted him as saying: "It was the most ridiculous thing, like all domestic incidents are. I was reaching for a book, my foot got caught on a rug or something, and down I went."
The incident led to the comparison of another fall he was reported to have taken while starring on stage in the UK in the early 60s, when he was said to have fallen down a cliff during a trip to Cornwall.
Humphries died at the age of 89, according to a spokesperson for St Vincent's Hospital in Sydney where he was being treated.