Ed Sheeran took the witness stand in a New York courtroom on Tuesday to deny allegations that his hit song Thinking Out Loud ripped off Marvin Gaye's soul classic Let's Get It On.
Sheeran, 32, was called to testify in the civil trial by the heirs of Ed Townsend, Gaye's co-writer on the 1973 soul classic.
The family has accused the English star of violating their copyright, claiming his 2014 hit bore "striking similarities" and "overt common elements" to the famed Gaye track.
Sheeran, in a dark suit and tie and his trademark ginger locks, was adamant that he had come up with the song himself, sparring at times with the plaintiff's attorney, Keisha Rice, on the subject of "independent creation".
Earlier in the day, a lawyer for Townsend's heirs, Ben Crump, had told jurors that the merging of the two songs was tantamount to "a confession".
"We have a smoking gun," he said of the concert footage showing Sheeran flipping between the two songs.
Mr Crump said the case was about "giving credit where credit is due".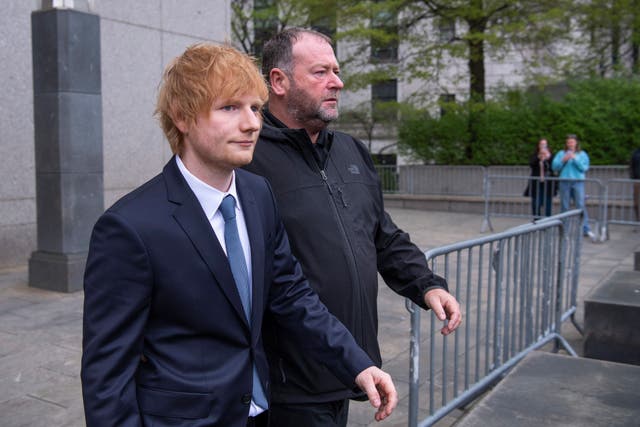 She said they "created this heartfelt song without copying Let's Get It On.
The chord progression and basic building blocks in Sheeran's song are frequently used, and did not appear first in Let's Get It On, his lawyer said.
The lawsuit was filed in 2017. The trial is expected to last up to two weeks.
Townsend, who also wrote the 1958 R&B doo-wop hit For Your Love, was a singer, songwriter and lawyer. He died in 2003.
Kathryn Townsend Griffin, his daughter, is the plaintiff leading the lawsuit.
"I think Mr. Sheeran is a great artist with a great future," Ms Griffin said. "I didn't want it to come to this, but I have to protect my father's legacy."