An art installation showing Ukraine from the perspective of refugees on a train has gone on display at Liverpool Cathedral as the city prepares to host the Eurovision Song Contest.
The work, Izyum to Liverpool by Katya Buchatska, features 12 television screens showing the view from train windows during a 24-hour journey across the war-torn country.
It is one of a number of works commissioned as part of EuroFestival, a cultural programme running alongside the song contest, which is being hosted by Liverpool on behalf of last year's winner Ukraine.
Buchatska, who is still based in Kyiv but was in Liverpool to see her work go on display, said she came up with the idea for the installation after seeing the hammer, used to break glass in case of emergency, on a train and thinking about the dangers outside.
She said: "I was on the train and looking out the window and realising that we see the same view but, at the same time, things are completely changed and we feel this anxiety and fragility of surrounding space.
"I think that my installation is about losing some safe place, some normal life, even if visibly it looks like before."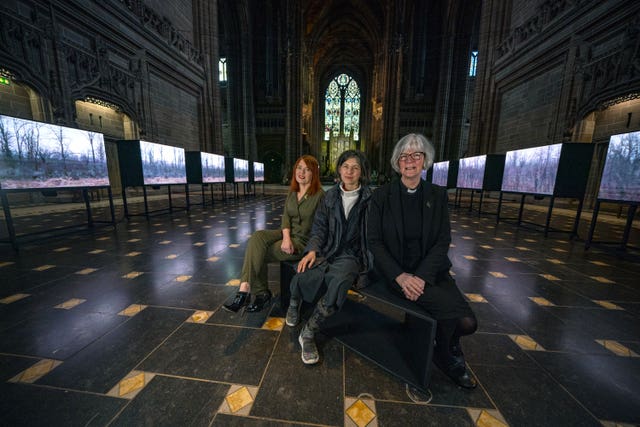 She told the PA news agency: "As an artist I'm very happy and see how my work sits in a great space and it's good for me.
"On the other hand, I'm a Ukrainian who is here because of the war, this work is because of war and Liverpool hosts Eurovision also because of the war so I'm not happy about it.
"I can't say just in one sentence how I am about it."
She said she wanted to make art as a response to the Russian invasion, where she said in Kyiv "it's just a chance, will you be alive tomorrow or not".
She said: "Obviously the Eurovision is a massive party, a celebration, but I guess what we're trying to do is just give people the opportunity to stop to think and to reflect and to remember those people either who've lost their lives or who are still living there and suffering the bombardments.
"I hope that whether people are religious or not, or whether they have a different religion, they can still come and use the space to think and to pray and to reflect on the bigger questions of war and peace."
The installation is one of a number of works which will be put on display or performed in the city from May 1 in the run-up to the final on May 13.
Director of Culture Liverpool Claire McColgan said: "It's been really interesting creatively putting this whole programme together.
"I'm just absolutely delighted with the work the artists have done in such a short period of time to bring that whole plethora of emotions, from what you feel in here all the way through to what you feel when you watch English National Opera do Eurovision.
"It's the whole of life in a programme."