Ed Sheeran has won a US copyright lawsuit which alleged he used parts of Marvin Gaye's hit song, Let's Get It On, for his own track Thinking Out Loud.
The British musician was taken to court by the family of Ed Townsend, Gaye's co-writer of the 1973 soul classic.
They claimed that Sheeran's 2014 song, written with collaborator Amy Wadge, bore "striking similarities" and "overt common elements" to Let's Get It On.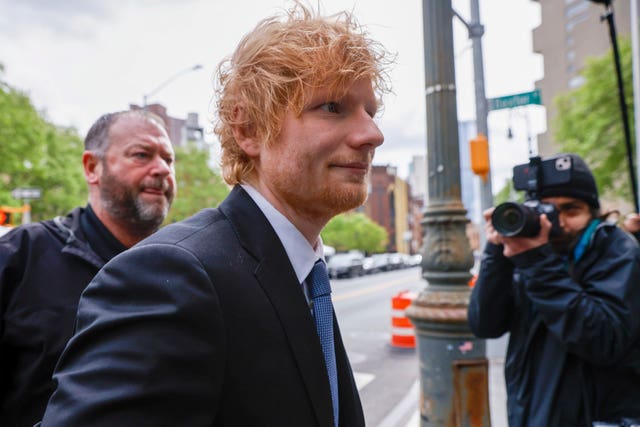 Sheeran stood up and hugged members of his legal team as the verdict was returned.
Jurors deliberated for just under three hours.
It comes just one day after the singer was forced to miss the funeral of his own grandmother due to being stateside for the trial, though he reportedly watched it via livestream.
During the trial, jurors heard from numerous industry experts and musicologists, as well as Sheeran himself.
At one point in his testimony, the musician picked up his guitar to play a rendition of Thinking Out Loud, to explain his songwriting process.
He reportedly became frustrated at times, describing the testimony of one of the plaintiff's expert witnesses as "criminal" and said that he found the entire case "really insulting".
Townsend's family brought the case against Sheeran, his label Warner Music Group, and his music publisher Sony Music Publishing, in 2017.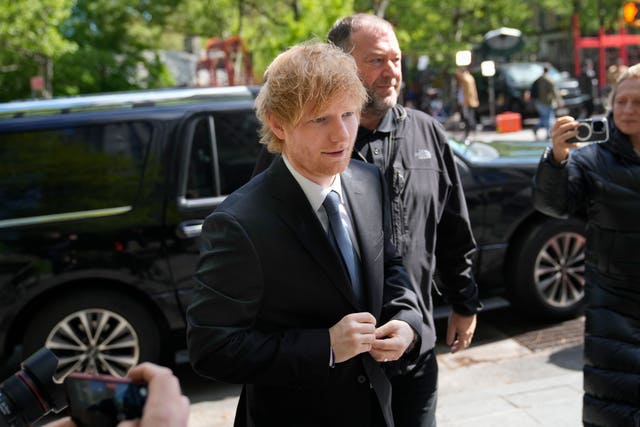 "The Defendants copied the 'heart' of Let 's (Get It On) and repeated it continuously throughout Thinking (Out Loud)," their claim stated, adding that it had been done "without consent, credit or compensation".
"As a result, members of the public have been deceived and/or confused into thinking that Thinking (Out Loud) is the independent creation of the defendants."
The complaint added the conduct, which had resulted in "illegal revenues", had been "knowing and willful".
The family requested a preliminary and permanent injunction against any future recording, distribution or public performance of Thinking Out Loud.
During the trial Ben Crump, representing the Townsend family, had said the case was about "giving credit where credit is due".
The verdict in the US trial follows a similar but separate copyright case that Sheeran faced in London last year over his 2017 hit Shape Of You.