Ukrainian Eurovision presenter Julia Sanina has said the contest has "come back to its own roots" through its support of her country.
The frontwoman of rock band The Hardkiss, 32, is part of the hosting team for the live shows, alongside Graham Norton, Britain's Got Talent judge Alesha Dixon and Ted Lasso actress Hannah Waddingham.
Ahead of the first semi-final on Tuesday night, she hailed the organisers for showcasing Ukrainian culture throughout the event.
"It has come back to its own roots and aims which were uniting people in dark times and bringing the feeling of support to everyone.
"And, of course, this is the first time when two countries host together."
Eurovision began as a technical experiment in television broadcasting in May 1956. After years of growth, it now describes its values as "universality and inclusivity".
Sanina, who met the King and Queen during a recent event in Liverpool, admitted she had previously watched Norton's chat show to help her practise English.
Speaking about her co-hosts, she said: "They all are incredible, so talented and professional. We've already had some rehearsals and I may say that the 'chemistry' is so strong!
"We feel and support each other and have a great time together.
"I am lucky and proud to work with them all. I am such a big fan of Graham and his show by the way. I was studying English watching his show."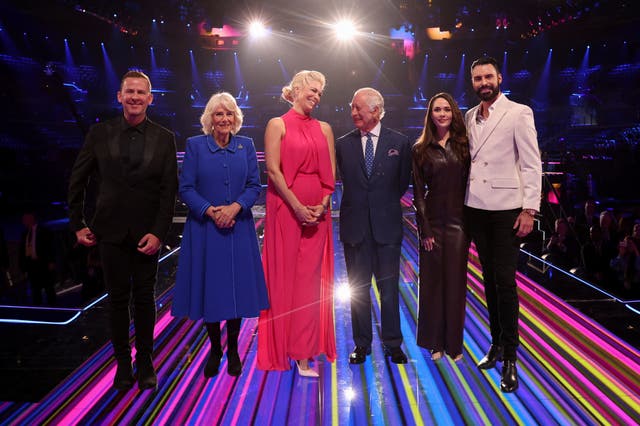 She said it was "right" the UK was hosting the contest on behalf of Ukraine.
"Unfortunately it's still unsafe in Kyiv because of the war," she said. "So we are very grateful that the UK is hosting with us.
"We do feel your support. And I think this synergy of two cultures will bring us an unforgettable show."
The Eurovision semi-finals will be broadcast on BBC One on Tuesday and Thursday, with the grand final taking place on Saturday from 8pm.