The winner of this year's Eurovision Song Contest will not be decided until Saturday night, but we already know the line-up of songs has broken records and made history.
Drawing on analysis by the PA news agency of each of the 1,399 songs to appear in the Eurovision final since the first contest in 1956, we know the 2023 final will feature:
– The highest ever proportion of songs in a minor key
The balance between songs in a major and minor key has tilted increasingly towards the minor in recent years and 2023 will see a record high.
Some 85% of songs in this year's final are in minor keys, easily beating the previous peak of 73% in 2021.
Minor-key songs were scarce in the early years of Eurovision, with none at all in the contests in 1957-59 or in 1964.
The proportion topped a quarter for the first time in 1965 but did not pass a third until 1979 and it took until 2002 to pass 50%.
Major keys now appear to have fallen out of favour: since 2005 there has been only one year – 2013 – when songs in minor keys have not been in the majority.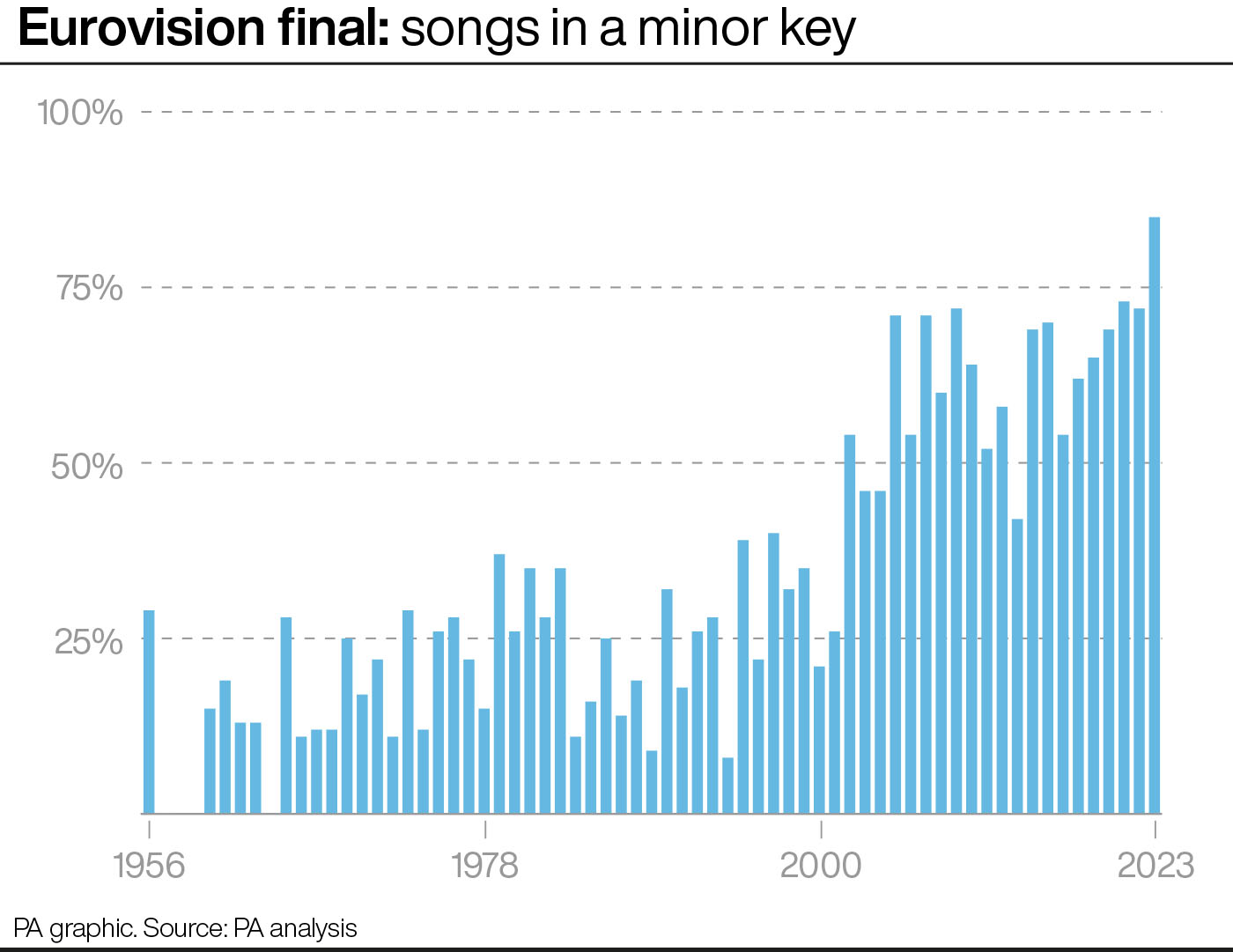 Songs featuring at least one key change – often two or three – were once commonplace at Eurovision.
Their heyday was the late 1960s, appearing in 82% of songs in 1968 and 63% in 1969.
They continued to be prevalent throughout the next few decades, appearing in an average of around half of all songs per year. West Germany's entry in the 1987 contest boasted no fewer than four key changes and there were two in the UK's winning song Making Your Mind Up by Bucks Fizz in 1981.
As recently as 2013 they appeared in more than a third of songs, but then abruptly went out of fashion, dropping to 15% in 2014, 8% in 2017 and 4% in 2022.
None of the songs in this year's final features a key change: the first time this has ever happened and a landmark in the contest's history.
The average speed, or tempo, of songs in the Eurovision final has hovered around 100 beats per minute in recent years, dropping below 100 three times since 2017 – a pattern not seen since the mid-1990s.
2023 sees an abrupt break from this trend, with an average tempo across all 26 songs of 120 beats per minute.
This is the highest average since 1984, when it was also 120.
The spike this year has been driven by fast-tempo songs such as Who The Hell Is Edgar? by Teya and Salena for Austria (146 beats per minute), My Sister's Crown by Vesna for Czechia (150) and Cha Cha Cha by Kaarija for Finland (155).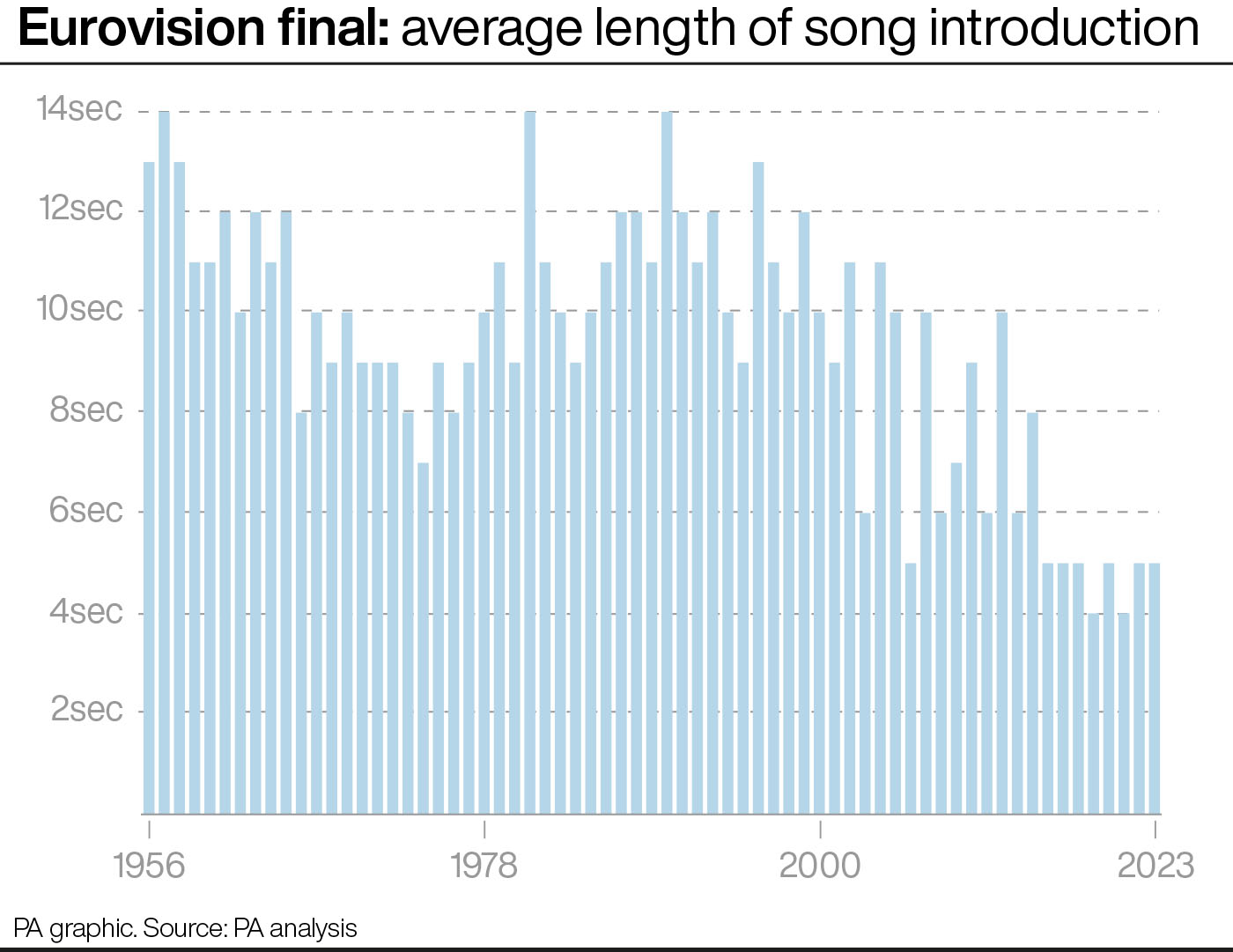 The average length of the introduction of a Eurovision song has fallen sharply this century and 2023 shows no sign of this going into reverse.
Introductions averaged 13 or 14 seconds in the early years of the contest, dipping slightly below 10 seconds in the 1970s then rising back above 10 seconds for much of the 1980s and 1990s.
But since 2013 the average has always been under 10 seconds and since 2015 it has always been five seconds or lower, touching four seconds in both 2018 and 2021.
This year the average is five seconds, thanks partly to some finalists – such as Armenia, Belgium, Germany and Slovenia – performing songs with no introductions at all.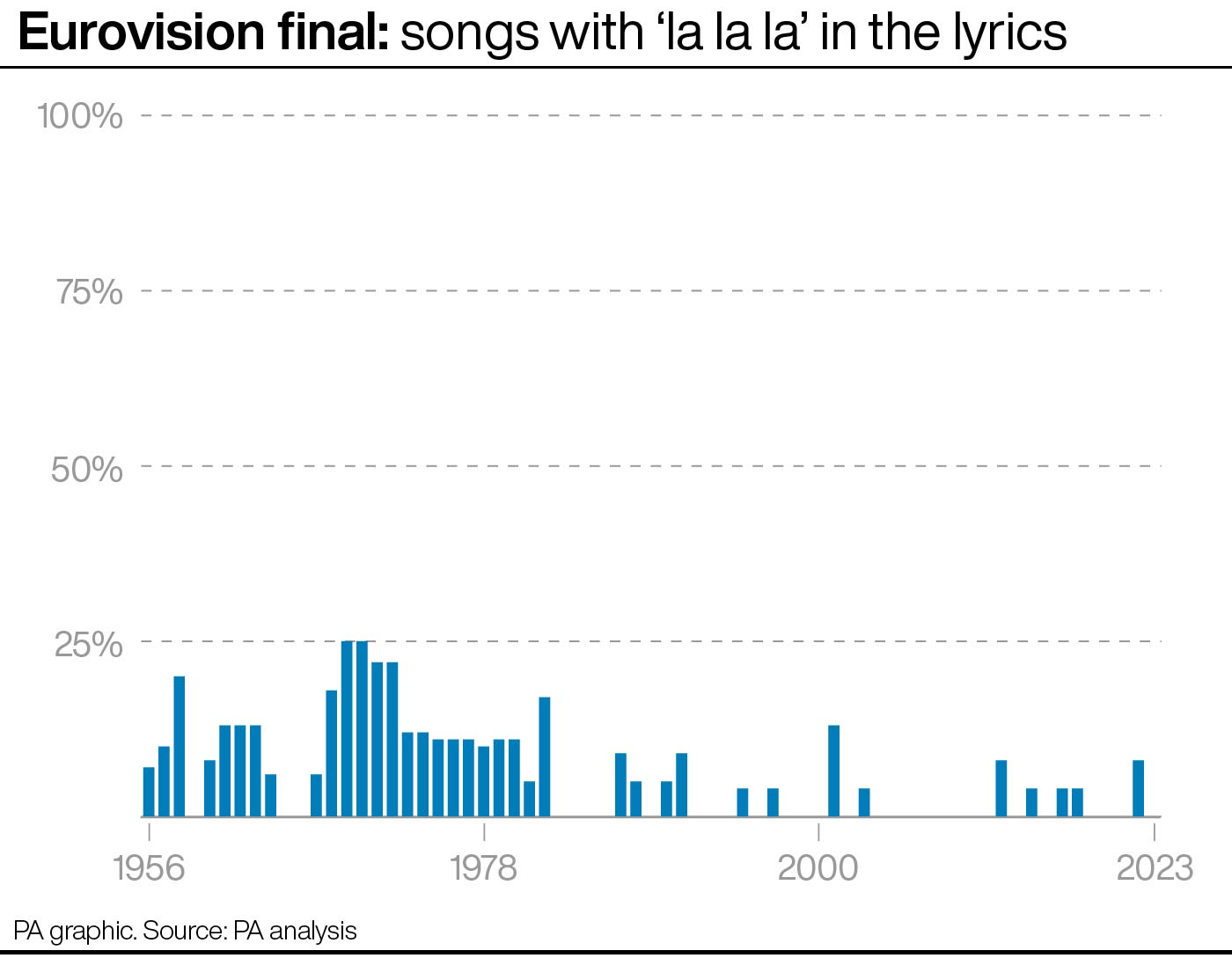 The phrase "la la la" was cemented in Eurovision folklore when Spain won the contest in 1968 with a song titled precisely that: La La La.
In both of the following years, 1969 and 1970, 25% of entries boasted "la la la" in their lyrics: the highest proportion in the event's history.
The popularity of the phrase waned slightly in the 1970s, but "la la la" was still turning up in 17% of entries as late as 1982.
Since then, the "la" has more or less vanished, save for a few fleeting appearances, such as 8% of songs in both 2012 and 2022.
This year will be the 16th final so far this century with no sign of a "la".