Mae Muller has said she is "proud of everyone" as she admitted her second-from-bottom Eurovision finish was "not the result we hoped for".
The London-born singer took to the stage in Liverpool for the Eurovision Song Contest final but finished 25th with I Wrote A Song, claiming 24 points.
Germany was the only nation to finish below the UK, on 18 points.
Posting on Twitter in the early hours of Sunday, 25-year-old Muller said: "I just want to say thank u x i know i joke a lot but we really put our all into the last few months, not the result we hoped for but so proud of everyone & what we achieved on this journey.
"Congrats to all the countries, I'll never forget this journey and I love you all."
The disappointment comes just 12 months after the UK finished second behind Ukraine when Sam Ryder wowed with his hit Space Man.
Commiserations came from the BBC, which organised the contest in partnership with the European Broadcasting Union.
The broadcaster's official Twitter account posted: "Mae, we're so proud of you and everything you've achieved at this year's Eurovision Song Contest."
As the show ended, Prime Minister Rishi Sunak tweeted: "Liverpool, you've done the United Kingdom and Ukraine proud.
"What a fantastic celebration for #Eurovision2023 Congratulations @Loreen_Talhaoui. Sweden it's over to you."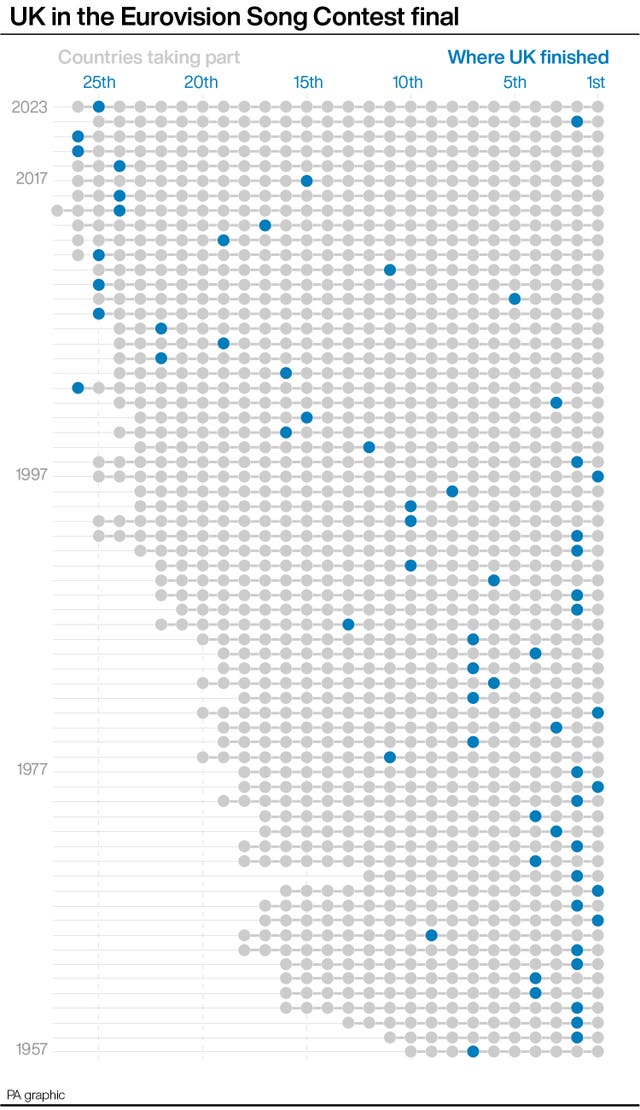 She scored a total of 583 points after the public and jury votes were combined, narrowly beating Finland's Kaarija who scored 526.
The win also ties her native Sweden with Ireland as the nation with the most wins, with seven apiece.
Loreen's win with Tattoo also means that Sweden will host the competition next year on the 50th anniversary of Abba winning Eurovision with their hit Waterloo.
She said: "This is overwhelming. I'm so happy and I'm so thankful."
Her win means she equals the record held by Irish singer Johnny Logan, who triumphed at the contest in both 1980 and 1987.
The Ukrainian entry, the brooding electronic duo Tvorchi, scored 243 points and came sixth.
The night opened with a pre-recorded video featuring last year's winners Kalush Orchestra – and a surprise appearance from the Princess of Wales playing the piano.
They were joined by Ryder playing the guitar on the top of the Liver Building on the Liverpool waterfront, with Andrew Lloyd Webber on piano.
Former Ukrainian contestants Go_A, Tina Karol and Jamala, who won for Ukraine in 2016, performed in between this year's hopefuls arriving for the flag parade.
But there was no appearance from Ukrainian President Volodymyr Zelensky, who was barred from addressing the event.