Vernon Kay has promised it will be "more of the same" ahead of his first mid-morning weekday BBC Radio 2 show today.
The TV presenter, 49, will take over the slot from veteran broadcaster Ken Bruce, who helmed the programme for 31 years.
Appearing from the Radio 2 studio, he told BBC Breakfast: "I'm very, very excited. The BBC Radio 2 audience are very faithful and nothing has changed apart from the voice behind the microphone and I can't wait to get started at 9.30 on the dot."
Asked if he gets nervous, he said: "It's only talking, it's a skill the majority of us were born with.
"I think it's that connection with the audience, the bond that you have, fingers crossed people will stay with us."
He showed off a good luck cake he had been given by Radio 2 staff, complete with icing headphones on top, as well as a gift bag containing a bottle of wine.
He said: "After today's show we are going to have some cake and wash it down with whatever's in this. It's from France and it's a rose."
He continued: "Because the show was so successful it's 'don't change it if it ain't broke', it's more of the same really."
Asked what he will bring to the show, Kay said: "Nothing that they haven't heard before really, just tales of the past and everything that has gone on from when I was a caretaker in Bolton.
"All those stories that connect me with the audience, it's not all champagne, bubbles, tuxedo and dinner parties once you get into showbiz."
Kay also wishes his mother a happy birthday, saying: "Gladys, the day is yours."
Asked if he will play her a tune, he said: "We don't play Doris Day yet on BBC Radio 2 but we might squeeze something in."
He reassured fans there will not be changes to the music playlist, saying: "That's what makes Radio 2 so special.
"It is the music and is the playlist and we're going to stick with what we know best.
"There might be a few tweaks you know, here and there. A couple more tunes with guitars in but on the whole everything's gonna stay as it is."
He hinted his first song will be by U2, saying: "It's from a big rock band, that's all I'm going to say."
"It's got one letter and number. The lead singer goes by one name."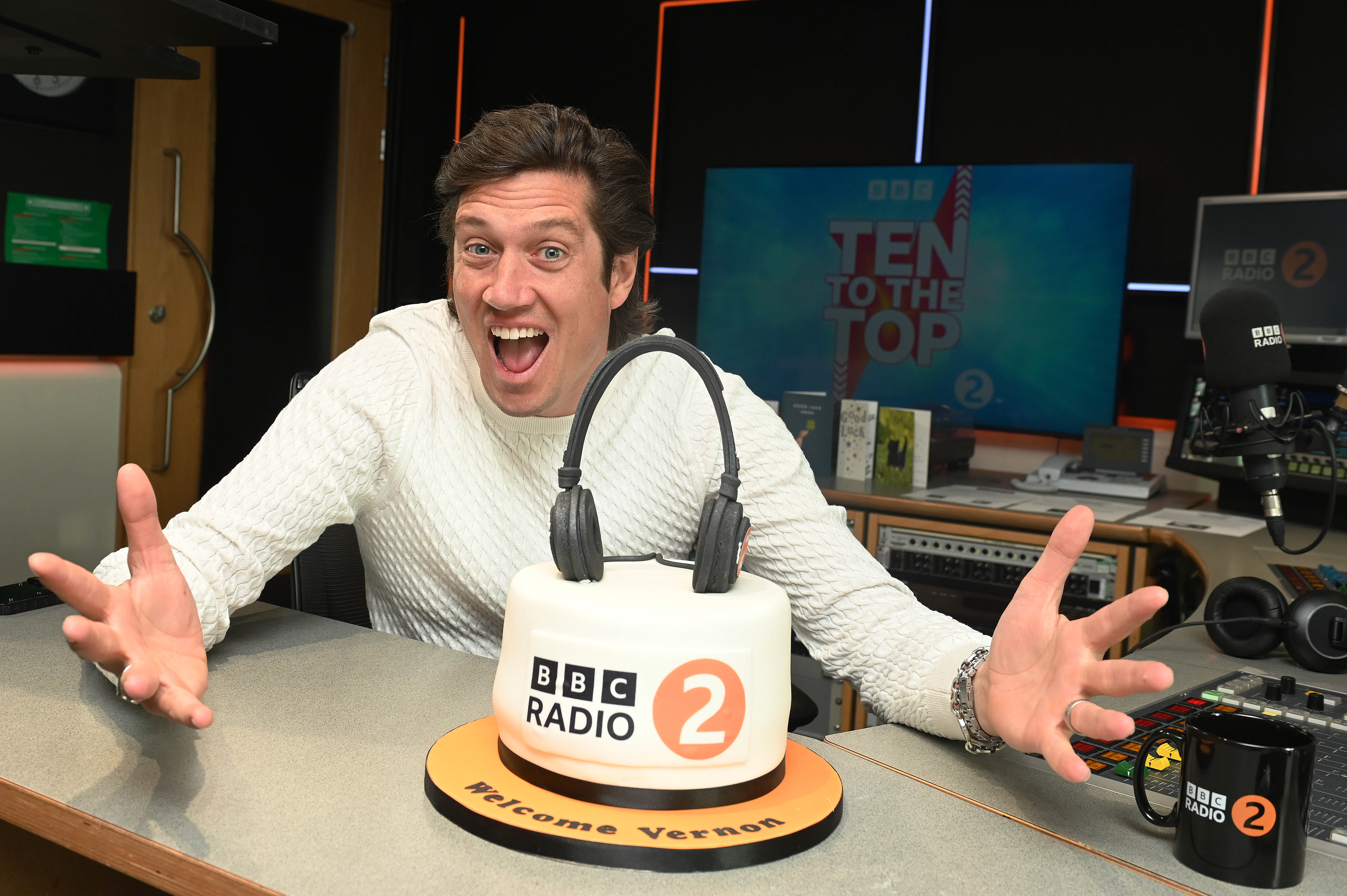 In the first few weeks of his new tenure, Kay will welcome two new Piano Room sessions – Def Leppard on May 18 and Noel Gallagher's High Flying Birds on June 1.
Kay, who is married to Strictly Come Dancing presenter Tess Daly, is known for fronting various shows on Channel 4's T4 as well as ITV programmes including All Star Family Fortunes, Just The Two Of Us, and Beat The Star.
Bruce, 72, announced he was leaving the BBC in January and moved to Bauer's Greatest Hits Radio in April to present a new mid-morning show from 10am to 1pm.