Huge bonfires are being lit in loyalist areas across Northern Ireland to usher in the main fixture in the loyal order marching season.
Homes have been boarded up at a number of sites amid concerns around safety and risk to property.
The towering bonfires, most built with stacks of wooden pallets, will draw thousands of onlookers into the early hours of Wednesday.
The bonfires have again proved contentious this year. Sinn Fein reacted angrily to a coffin bearing an image of the late Martin McGuinness being attached to one in east Belfast while Irish flags and posters of Sinn Fein and other non-unionist politicians were again spotted on multiple fires.
A racist banner referencing Celtic striker Scott Sinclair was hung on another bonfire in east Belfast.
Sinn Fein's Stormont leader Michelle O'Neill called for an end to what she described as an "annual display of hate".
"Once again, we have witnessed bonfires across the North being festooned with stolen Sinn Fein election posters, Irish national flags and other emblems," she said.
A Police Service of Northern Ireland spokeswoman said: "We take hate crime very seriously and actively investigate all incidents reported to us. Hate crime is wrong on all levels and the PSNI will do everything it can to ensure that everyone, from whatever background, can live free from prejudice, fear and discrimination."
The safety of a number of the structures has also been questioned.
Some of the unregulated pallet stacks have been erected in built-up areas near homes and other properties.
Contractors in Belfast spent most of Tuesday morning boarding up windows at a number of the sites, including Ravenscroft Avenue and Cregagh in the east of the city and Lanark Way in the north.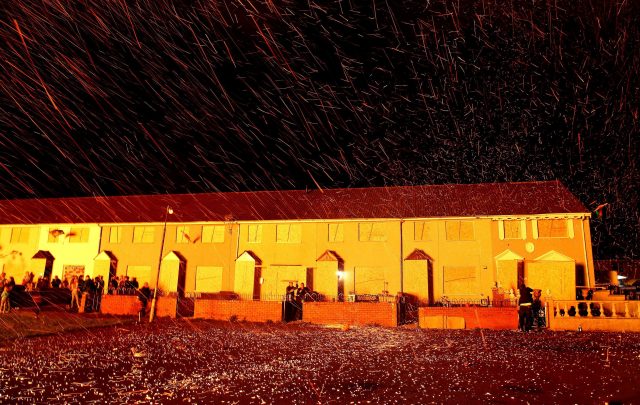 Last week Belfast City Council secured a court order to prevent further construction on four bonfires in the east of the city amid safety concerns. Masked loyalists appeared to defy that order at one of the sites on Monday.
Last year, a number of terraced homes next to the Hopewell Square bonfire in Belfast's Shankill Road were badly damaged when a blaze broke out on the roofs. It was caused by hot embers blown on the wind.
Advocates of the bonfires portray them as a family-friendly, spectacular celebration of loyalist/Protestant culture.
Their detractors claim they are potentially dangerous, environmentally damaging, magnets for anti-social behaviour and alienating to nationalists.
Democratic Unionist leader Arlene Foster claimed there was a campaign to "demonise" the bonfires.
"Bonfires on the Eleventh Night have long been part of the unionist culture," she said.
"Those who have waged a campaign of demonisation against such celebrations should dial down the rhetoric. To those who build bonfires, I urge them to not play into the hands of those who want to demonise the culture.
"They should be respectful of their neighbours. Endangering property and lives should not be a concern for residents on the Eleventh Night. These should be events that all the family can enjoy. We will work constructively with communities to achieve this."
One of the biggest bonfires ignited prematurely, with firefighters working through the early hours of Tuesday to extinguish the blaze in Carrickfergus.