Theresa May has insisted that her determination to change Britain in the interests of those who are "just about managing" remains "undimmed" despite the loss of her parliamentary majority.
In her first major speech since the general election debacle of June 8, Mrs May said she would act to protect the rights of workers, following the publication of Matthew Taylor's report on the so-called "gig economy".
And she appealed to other political parties to put forward their proposals for debate and discussion ahead of the Government's full response to the report later in the year.
However, she insisted that she would press forward with the reform agenda she set out when she first arrived in 10 Downing Street a year ago, saying: "My commitment to changing Britain is undimmed."
The Prime Minister added: "At this critical time in our history, we can either be timid or we can be bold."
"We can play it safe or we can strike out with renewed courage and vigour, making the case for our ideas and values and challenging our opponents to contribute, not just criticise."
Mrs May said the Government's response to the Taylor Report would be guided by the aim of ensuring that "the interests of employees on traditional contracts, the self-employed and those people working in the 'gig' economy are all properly protected".
But she insisted that Britain must avoid "overbearing regulation", retain flexibility in the labour market and remain "a home to innovation, new ideas and new business models".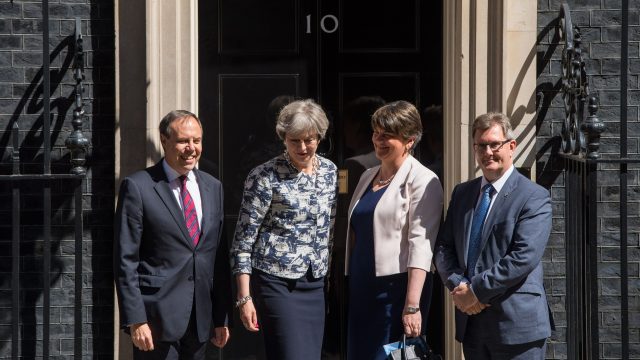 Mrs May said it was important to ensure that zero-hours contracts do not allow employers to "exploit" workers, but rejected Labour's call for them to be banned, warning that this would "harm more people than it would help".
The Taylor Report recommended the creation of a new category of worker in employment law called a "dependent contractor" to cover those who are not full-time employees but do not enjoy the autonomy traditionally seen as part of self-employment.
Launching the report in London, Mr Taylor said: "One-sided flexibility is where employers seek to transfer all risk on to the shoulder of workers in ways which make people more insecure and makes their lives harder to manage.
"It's the people told to be ready for work or travelling to work only to be told none is available, it's the people who spent years working for a company on zero hours contracts but who without a guarantee of hours from week to week can't get a mortgage or a loan.
"It's the people who feel that if they ever raise legitimate concerns about their treatment they will simply be denied the hours that they so desperately need."
Mrs May was asked if she agreed with the report's finding that many gig economy firms should be possibly paying millions of pounds in National Insurance contributions which they do not currently.
She replied: "We're going to look at all these recommendations that have come out of the report and we will look at them all very carefully and seriously and we will respond to the report collectively, in due course, so that we can look at the whole package that Matthew and his panel have put forward."