Health campaigners have said the Government "must try harder" to curb the "devastating all-time high" of childhood obesity figures, a year after it launched a landmark plan to tackle the crisis.
Public Health England (PHE) said "real progress has been made" on reducing sugar levels in food items in the 12 months since the introduction of the childhood obesity plan, but leading officials said a "much more robust" strategy was needed to ensure targets are met.
The comments come days after figures showed that more than 600 children and young people under 25 were treated for type 2 diabetes in 2015/16 – nearly 80% of whom were obese.
PHE said that it would now be focusing on the reduction of excess calories in a range of products in conjunction with the implementation of the soft drinks industry levy, which will come into force in April 2018.
The levy, or sugar tax, will create an additional charge for drinks manufacturers whose products exceed around 5% sugar content.
But the Obesity Health Alliance (OHA), a coalition of more than 40 leading health charities, medical colleges and campaign groups, said that "despite some good progress", its assessment of the plan was: "Must try harder."
It warned that the guidelines should be extended to include saturated fats, along with measures to reduce the impact of junk food marketing where children were the target audience.
OHA alliance lead Caroline Cerny said: "Good progress has been made over the last year with strong measures to reduce sugar from foods and drink and we look forward to seeing ambitious targets for industry to make the food we eat less calorific.
"However, we can't ignore the fact that the food industry continues to get away with bombarding children with adverts that we know encourage unhealthy food choices.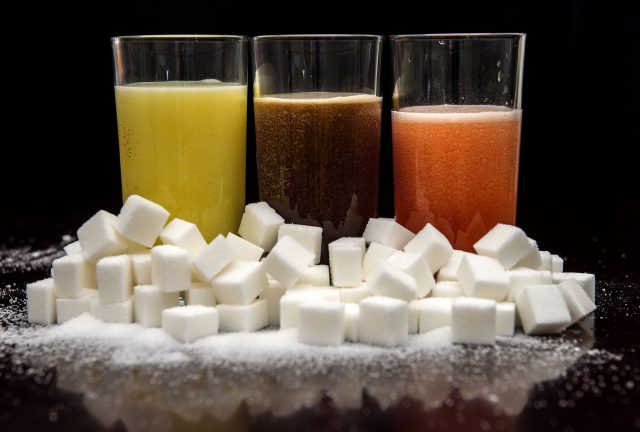 "The existing regulations are full of loopholes and don't reflect the way children watch TV or online content. Failing to tackle this area is significantly undermining the impact of the childhood obesity plan.
She added: "After one year, it is scraping along with a C grade, rather than topping the class with an A star."
Graham MacGregor, professor of cardiovascular medicine at Queen Mary University of London, and chairman of campaign group Action On Sugar, said: "We need a much more robust plan with enforcement of the sugar and calorie reduction targets, at the same time, the sugar-sweetened soft drinks levy needs to be extended to confectionery, the second biggest contributor of energy intakes in children.
"We must also have watertight restrictions on marketing unhealthy foods to children, with uniform front of pack labelling. Without the above, our children will continue to become obese and die prematurely from type 2 diabetes, heart disease, strokes and cancer."
Mr MacGregor also criticised Theresa May for having "watered down" the childhood obesity plan "for entirely political reasons" since its inception by David Cameron's government.
PHE said it will now undertake a period of detailed consultation with leading food and drinks businesses to formulate a plan that would best enable them to reach the target 20% sugar reduction in key foods by 2020.
Chief executive of PHE Duncan Selbie said: "A third of children leave primary school overweight or obese and an excess of calories – not just excess sugar consumption – is the root cause of this.
"We will work with the food companies and retailers to tackle this as the next critical step in combating our childhood obesity problem."