A Tory former attorney general has called the Government's repeal bill "an astonishing monstrosity" and warned he will vote against it unless it is substantially improved.
Dominic Grieve told ministers that while he would support the proposals at second reading, he would not do so at the bill's third reading as it stands.
His comments follow those of the Conservative former chancellor Ken Clarke, who had earlier told MPs he may rebel against the European Union (Withdrawal) Bill.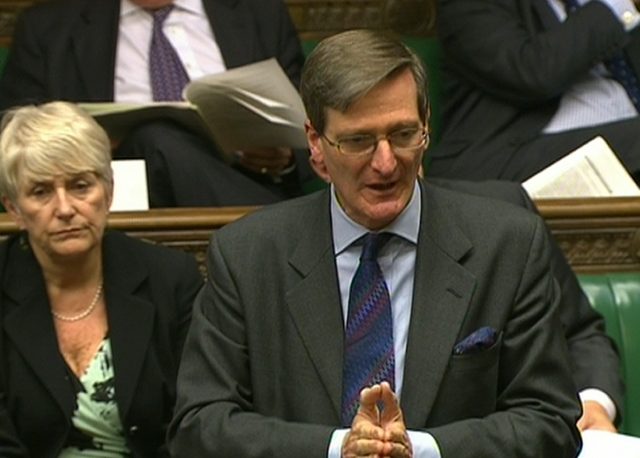 Mr Grieve said: "I shall support the Government at second reading. This is an absolutely vital Bill. We cannot leave the European Union sensibly without such a Bill being on the statute book. The Government needs support and it will have it from me.
"But equally, I have to say that unless this Bill is substantially improved in the course of the committee stage, I regret to have to say to my right honourable and honourable friends, I will be in no position to support it at third reading in its current form.
"It is in many respects an astonishing monstrosity of a Bill."
Mr Grieve said the Bill was unclear in a number of areas in terms of the transfer of EU law.
He went on to call the current situation with the so-called Henry VIII clauses "frankly ridiculous".
Brexiteer Owen Paterson, the Conservative former environment secretary, also said he hoped the Government "would listen to concerns of how some of the so-called Henry VIII clauses might be amended".
Tory former education secretary Nicky Morgan added: "Parliamentary scrutiny is not an affront to democracy, it is its very essence. The true saboteurs of Brexit are those who would sanction the exclusion of Parliament on this process."
Conservative Anna Soubry, a former minister, said there is "growing concern" about the Bill and criticised people for spreading "lies" about those MPs who are seeking to question the proposed laws.
She said: "My biggest concern is this power grab, as I put it, by ministers – this transfer of powers over to ministers with very little, if any, influence or decision and debate by this place and in this chamber.
"I'd like to thank the Prime Minister and (Brexit Secretary David Davis) who have clearly already listened to the many concerns on these benches. I'm having a meeting with others with the Prime Minister and I look forward to that.
"And I look forward in due course to some very serious Government amendments coming forward or perhaps the adoption of amendments which will no doubt be laid by honourable members and right honourable members on this side.
"If anybody tells you that people like me are doing everything we can in scrutinising legislation, laying amendments, perhaps voting for them, that we're doing it to thwart the people, then they're telling you lies.
"And I'm not going to put up with it any longer because this needs to be said."
Ms Soubry said Brexit will happen as she and others had made a promise to voters.