Five people have been arrested on suspicion of public order offences after thousands of Cologne fans turned up to the Emirates Stadium for their side's Europa League match against Arsenal.
The game was postponed for an hour and extra officers were drafted in to deal with disorder as huge crowds arrived at the ground.
Following the match, Scotland Yard confirmed there had been no reports of any "significant incidents".
A spokesman added: "Officers responded to reports of disorder at the Emirates Stadium during the evening where a large number of supporters had gathered for the Arsenal vs FC Koln match."
Ahead of the match, which was due to begin at 8.05pm, there were many more fans than could be accommodated in the away end, and the chaos meant supporters with tickets were unable to get into the ground.
Cologne fans were clearly visible in home sections all around the stadium, and a video posted on social media appeared to show a number of supporters fighting with stewards in the stands before kick-off.
As a helicopter hovered overhead, police formed a line in a bid to hold back the crowds.
Supporters were searched on the way in by a strong line-up of stewards at each of the entrances, while several police vans could be seen outside the stadium along with teams of uniformed officers.
More than a dozen police officers wearing helmets could be seen entering the ground at the east stand as the game kicked off.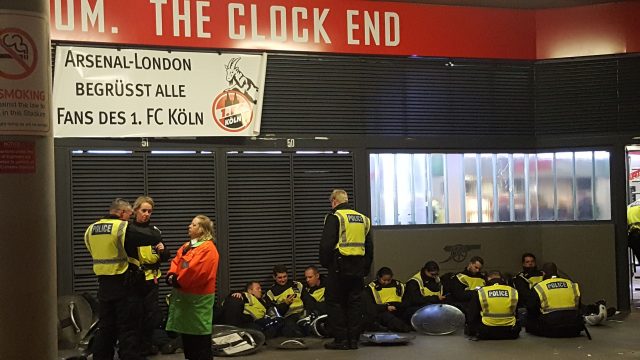 Riot police with shields and helmets could also be seen sitting outside the stadium at the Clock End after the match started.
Speaking after the match, which Arsenal won 3-1, the Gunners' manager Arsene Wenger said Cologne supporters had been "very clever" to enter the stadium undetected, with both sides likely to face UEFA charges in the coming days.
"They were very clever," he said.
"I don't know how they managed to infiltrate our fans and get everywhere but they did that very well. I don't know if they went through Arsenal membership, on the internet… they did very well."
Cologne coach Peter Stoger refused to be questioned on the actions of the club's supporters: "I have no comment about the fans," he said.
"I'm the coach, my job is the team, my job is football not the fans."
A club spokeswoman added: "We have to first inform ourselves and in the next few days we will talk about that."
Arsenal supporter, and ITV's political editor, Robert Peston tweeted: "These Cologne fans are a disgrace. Nazi salutes. Peeing in doorsteps. My European solidarity being tested."
Earlier on Thursday, Cologne supporters arrived in central London as thousands of fans of the Bundesliga side were expected in the capital despite only 3,000 away tickets being available.
Social media posts showed hordes of supporters singing and marching around Oxford Circus hours before the scheduled kick-off.