The EU's chief negotiator has welcomed the "constructive spirit" of Theresa May's Brexit speech but suggested more progress was needed before they could move to negotiations on a free trade deal.
Michel Barnier said the EU side would have to assess whether the Prime Minister's recognition that no member would have to "pay more or receive less" as a result of Brexit covered all the commitments made by the UK as a member state
He said that assurances on the future rights of EU citizens in the UK were a "step forward" but needed to be translated into the UK's official negotiating position.
"In her speech in Florence, Prime Minister Theresa May has expressed a constructive spirit which is also the spirit of the European Union during this unique negotiation," Mr Barnier said in a statement.
"The EU will continue to insist on sufficient progress in the key areas of the orderly withdrawal of the United Kingdom before opening discussions on the future relationship.
"Agreeing on the essential principles in these areas will create the trust that is needed for us to build a future relationship together."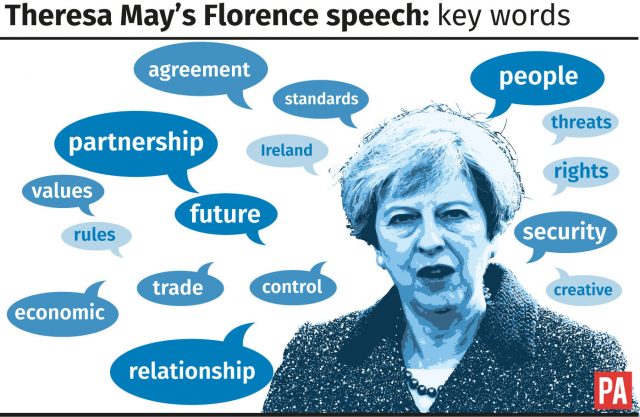 The EU has insisted that it will not move to trade talks until sufficient progress has been made on future citizens' rights, the Irish border and the UK's "divorce bill".
Mr Barnier said his priority remained the protection of citizens' rights, with EU nationals living in the UK continuing to enjoy the same rights British citizens currently have in the EU.
"Prime Minister May's statements are a step forward but they must now be translated into a precise negotiating position of the UK Government," he said.
He said the EU side would also need to study the implications of Mrs May's offer on the financial settlement.
"The United Kingdom recognises that no member state will have to pay more or receive less because of Brexit. We stand ready to discuss the concrete implications of this pledge," he said.
"We shall assess, on the basis of the commitments taken by the 28 member states, whether this assurance covers all commitments made by the United Kingdom as a member state of the European Union."
Mr Barnier welcomed Mrs May's recognition that the UK could not expect to retain all the benefits of EU membership but with fewer obligations than the remaining member states.
He said it was now important to get on with the negotiations as time was running out if they were to get to a final agreement by autumn next year as planned.
"The speech shows a willingness to move forward, as time is of the essence. We need to reach an agreement by autumn 2018 on the conditions of the United Kingdom's orderly withdrawal from the European Union," he said.
"We look forward to the United Kingdom's negotiators explaining the concrete implications of Prime Minister Theresa May's speech.
"Our ambition is to find a rapid agreement on the conditions of the United Kingdom's orderly withdrawal, as well as on a possible transition period."