Meghan Markle has made her long-awaited first appearance at an official engagement attended by Prince Harry.
The US actress was spotted at the opening ceremony of the Invictus Games in Toronto, the competition for wounded veterans founded by the Prince.
Ms Markle's seat was in a public section of the crowd, while Harry watched on around 20 places and four rows away in a VIP area.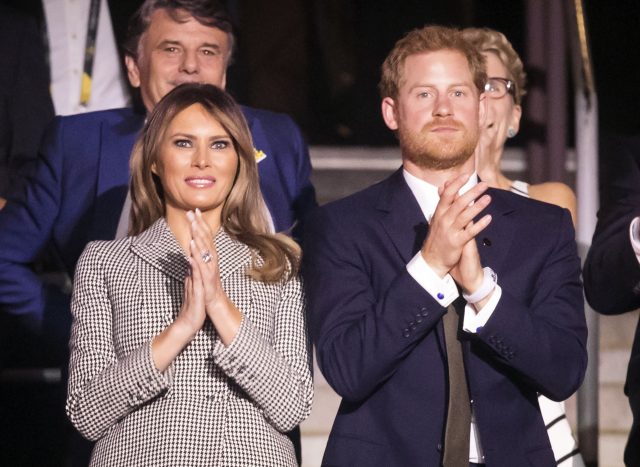 Sat next to US first lady Melania Trump, Canadian prime minister Justin Trudeau and Ukrainian president Petro Poroshenko, the Queen's grandson rose to his feet as the UK team arrived in the stadium.
Meanwhile the Suits star, who wore a plum-coloured leather jacket and a burgundy pleated dress paired with a red velvet clutch bag, smiled and clapped as the 550 competitors from 17 nations filed in.
Ms Markle is reported to have been accompanied in the stadium by a friend, Markus Anderson, while members of the Prince's protection squad stood guard.
At least one member of the crowd is said to have been stopped as they tried to take a photograph of the actress.
The Toronto resident had not been seen since Harry's arrival ahead of the Games on Friday, although there was fevered speculation the event would be the first time the couple stepped out together.
Kensington Palace is not commenting on Ms Markle's appearance at the ceremony, which will be viewed by royal watchers as a milestone in their relationship.
Earlier on Saturday, Harry held separate bilateral meetings with the Mrs Trump and Mr Trudeau.
The first lady is in Canada to support the large American contingent taking part in the Games and sat next to the Prince during the ceremony.
Harry founded the Invictus Games, a paralympic-style competition for wounded, injured and sick former and still-serving servicemen and women, and staged the inaugural event in London in 2014.
The second tournament was held in Orlando, Florida in 2016, and the third in Toronto will see 550 competitors from 17 nations take part in 12 adaptive sports.
During the eight-day Games, Harry will visit training sessions and watch participants competing in all 12 sports, including athletics, cycling and wheelchair basketball.
In his speech during the opening ceremony, Harry, who served as a helicopter pilot in Afghanistan, told how he felt compelled to honour the example set by servicemen and women after a harrowing flight back from Afghanistan.
"The true scale of this example was brought home to me when I left Afghanistan after my first deployment there in 2008," he said.
"As I was waiting to board the plane, the coffin of a Danish soldier was loaded on by his friends.
"Once on the flight, I was confronted with three British soldiers, all in induced comas, with missing limbs, and wrapped in plastic. The way I viewed service and sacrifice changed forever. And the direction of my life changed with it.
"I knew that it was my responsibility to use the great platform that I have to help the world understand and be inspired by the spirit of those who wear the uniform."