Boris Johnson has told the EU to "get serious" over Brexit talks following suggestions that he is holding up progress.
The Foreign Secretary also branded Labour "supine protoplasmic invertebrate jellies" after accusing them of failing to rule out paying a 100 billion euro (£89 billion) Brexit divorce bill.
The Cabinet minister told MPs he believes the Opposition would "readily fork out" that sum of money to the EU, also claiming there is a "ruthless and iron consistency" about his and the Government's approach to Brexit.
Shadow foreign secretary Emily Thornberry called on "flip-flopping" Mr Johnson to "stop fighting with himself" when it comes to making statements about Brexit.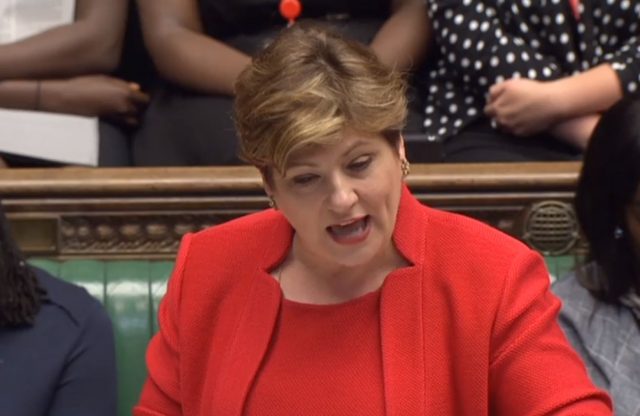 Speaking in the Commons, Liberal Democrat MP Jamie Stone (Caithness, Sutherland and Easter Ross) asked Mr Johnson if he will respond to claims from German politician Michael Fuchs that he is holding up progress in Brexit talks.
Mr Johnson replied: "The Government is united about a very coherent policy, has made a very generous offer.
"If I may say to the gentleman you quote, whose name I did not alas catch, it is up to our friends and partners in the EU now to look seriously at the offer we are making – particularly on citizens and to make progress.
"Everybody wants to make progress, everybody wants to give the 3.2 million EU citizens in this country the maximum possible reassurance and security.
"That can only happen once our friends and partners decide to get serious in these negotiations."
Labour's Ms Thornberry earlier noted that Mr Johnson previously suggested European leaders could "go whistle" if they expect Britain to pay a divorce bill for withdrawing from the EU, before later saying the UK would meet its obligations.
She asked: "Can you clear up this issue today? Do you accept there will be a divorce bill or not, and if so how much will the bill be?"
Mr Johnson replied: "I must very humbly and apologetically correct you because you're not faithfully representing what I have said.
"What I said in answer to an honourable friend on these benches was that some of the sums that I heard spoken of were in my view eye-watering, in my honourable friend's, eye-watering, that they were far too high.
"Now, the figure I heard was 100 billion euro – is that side of the House, would they cough up a hundred? Would you? Would you?
"I think they would, I think they would, the supine protoplasmic invertebrate jellies. They would.
"I think that's the sort of money they'd readily fork out. I think that's too much."