The world's first floating wind farm has started to supply electricity to the grid after being officially opened by Scotland's First Minister.
Nicola Sturgeon was flown over the Hywind development, where giant turbines around 15 miles (25km) off the shore of Peterhead, Aberdeenshire, could provide sufficient power for more than 20,000 homes.
The project has been developed by Norwegian state energy company Statoil, with floating turbines installed on about 2.5 square miles (four sq km) of water in the North Sea, where the average wind speed is about 10 metres per second.
The Hywind project features five turbines each 253 metres tall, with 78 metres submerged under the sea and anchored to the sea bed by cables.
Each turbine is more than three times the height of New York's Statue of Liberty, Ms Sturgeon said.
The First Minister said: "Hywind will provide clean energy to over 20,000 and will help us meet our ambitious climate change targets.
"This marks an exciting development for renewable energy in Scotland."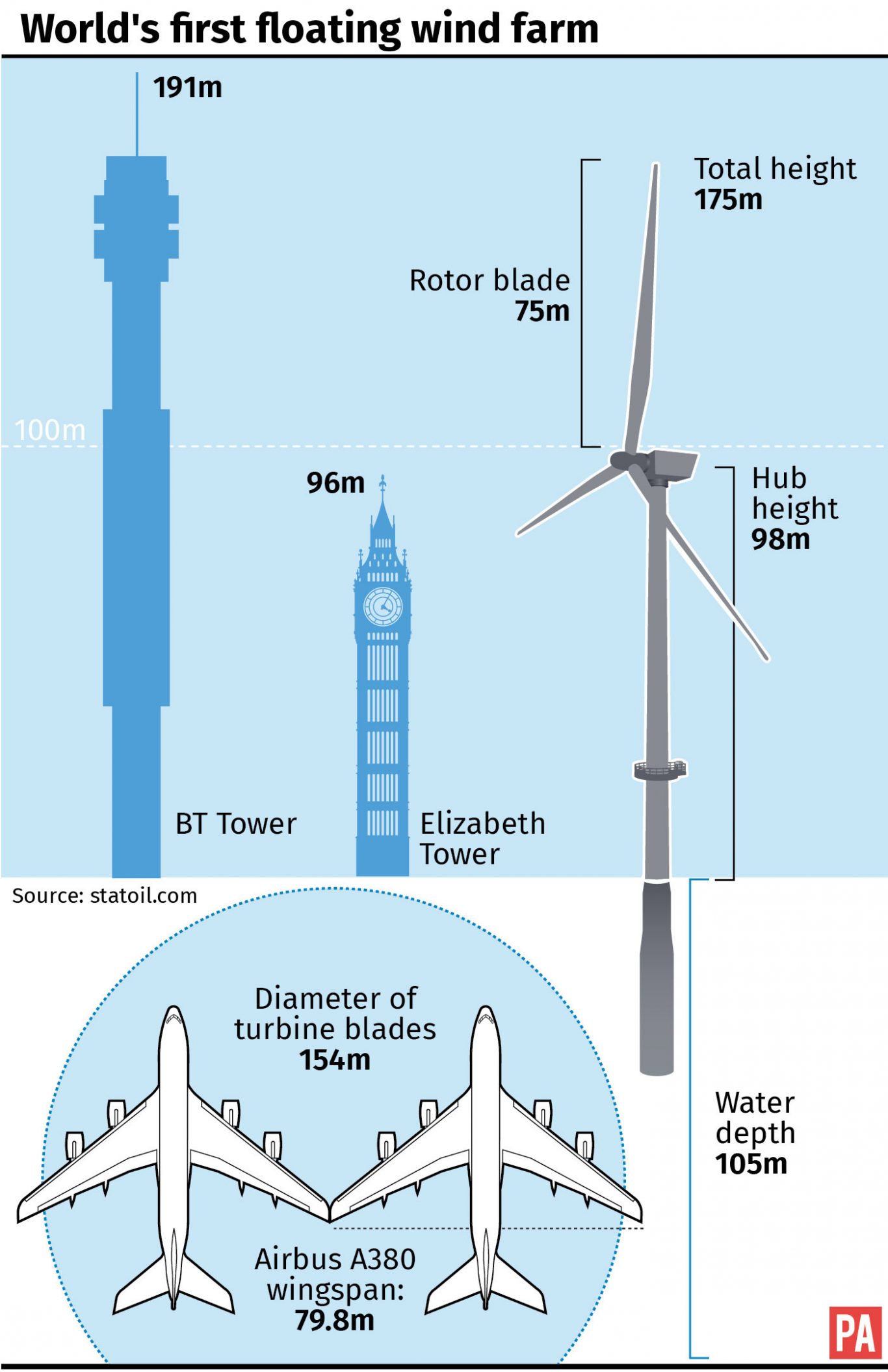 She said the pioneering project "underlines the potential of Scotland's huge offshore wind resource and positions Scotland at the forefront of the global race to develop the next generation of offshore wind technologies".
Ms Sturgeon added: "I'm pleased Scottish suppliers have contributed to the Hywind project from the development through to the production phase and are still involved to investigate long-term potential for floating wind."
Irene Rummelhoff, executive vice president of new energy solutions for Statoil, said the turbines could be sited in areas with a water depth of up to 800 metres, which have so far been out of bounds for offshore wind.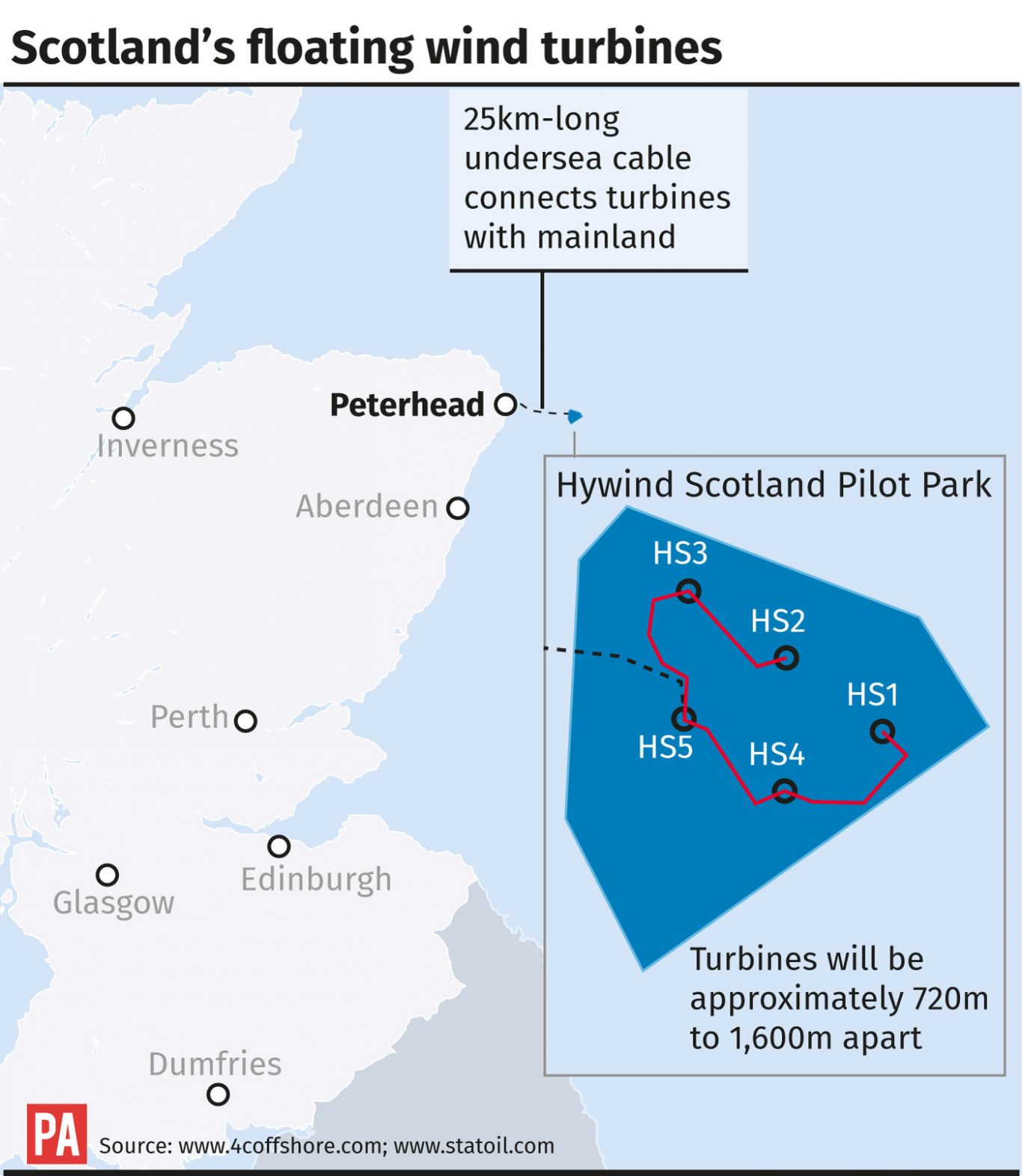 "The learnings from Hywind Scotland will pave the way for new global market opportunities for floating offshore wind energy," she said.
"Through their government's support to develop the Hywind Scotland project, the UK and Scotland are now at the forefront of the development of this exciting new technology."
Environmental campaigners welcomed the opening.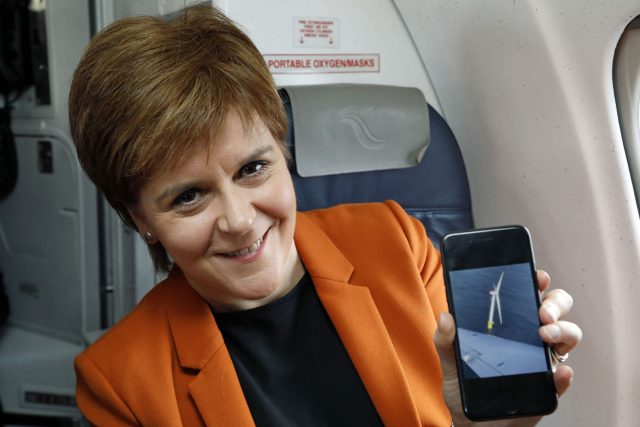 Gina Hanrahan, acting head of policy at WWF Scotland, said: "With around a quarter of Europe's offshore wind resource in Scotland, it's great to see the world's first floating wind farm inaugurated off our coast.
"Offshore wind is already an industrial success story across the UK, cutting emissions, creating jobs and dramatically driving down costs.
"By demonstrating the commercial viability of floating wind, Scotland can help to develop the industry in new frontiers and deeper waters."
Hugh McNeil of industry body RenewableUK said the "extraordinary Hywind project is being watched around the world, as floating offshore wind has the potential to be exported globally".
He said: "Floating offshore wind opens up new opportunities for us to build offshore wind farms in much deeper waters than before, where wind speeds are even higher."
Claire Mack, chief executive of Scottish Renewables, said: "Hywind's presence in Scottish waters is a reminder that, as the windiest country in Europe, and with some of the deepest waters and most promising offshore wind sites, Scotland is perfectly placed to capitalise on floating turbine technology."