Plans to pedestrianise the western section of London's Oxford Street have been unveiled.
East-west traffic would be removed from the popular shopping area under proposals from major Sadiq Khan.
Some north-south routes will be retained in the scheme, which is subject to a public consultation.
The measures are set to be implemented by December next year to coincide with the launch of Elizabeth line services, which are expected to boost visitor numbers.
The half-mile section between Oxford Circus and Orchard Street would be traffic-free east-west.
Mr Khan described the publication of the plans as "a hugely exciting moment for the capital".
He said: "Oxford Street is world famous with millions of visitors every year, and in just over a year the iconic part of the street west of Oxford Circus could be transformed into a traffic-free pedestrian boulevard.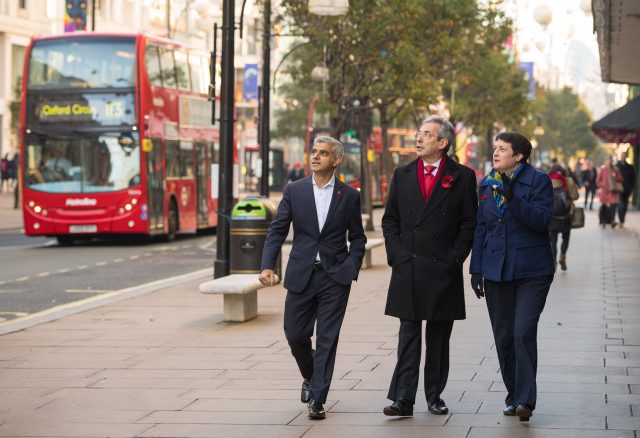 "Whether you're a local resident, a business, or shop in some of the area's famous stores, our plans will make the area substantially cleaner and safer for everyone, creating one of the finest public spaces in the world."
Transport for London has been working since summer last year to reduce the number of buses operating along Oxford Street.
New and extended taxi ranks would be created nearby to allow black cabs to continue to pick up and drop off shoppers.
Cyclists will be forced to dismount under the scheme, although a consultation on new cycle routes along quieter roads to the north and south of Oxford Street will be held next summer.
The plans would see the carriageway raised to be level with existing pavements to boost accessibility, and a piece of public art could be commissioned to run along the entire length of the pedestrianised section.
Mr Khan pledged to work with residents, businesses and Westminster Council to ensure the plans are "the very best they can be".
The measures were welcomed by environmental and business groups.
British Heart Foundation chief executive Simon Gillespie said they are an "important step towards tackling air pollution".
Jace Tyrrell, chief executive of the New West End Company, which promotes the area's businesses, said: "Removing the wall of red buses from Oxford Street will reduce congestion and improve air quality."