The father of a soldier who died during an Army fitness test has asked for his son's inquest to be re-opened, rejecting the findings of a report which concluded the death was an "unforeseen tragedy".
Corporal Josh Hoole, 26, of The Rifles, died in July last year in Brecon, Mid Wales, after collapsing while on pre-course training for the Platoon Sergeants' Battle Course.
A probe into the incident concluded the cause of his death was "within the definition of sudden arrhythmogenic death syndrome (SADS)" – a condition that affects the heart.
A panel found Cpl Hoole himself would not have known of his susceptibility to SADS and that it was reasonable for the Army not to have known about the problem.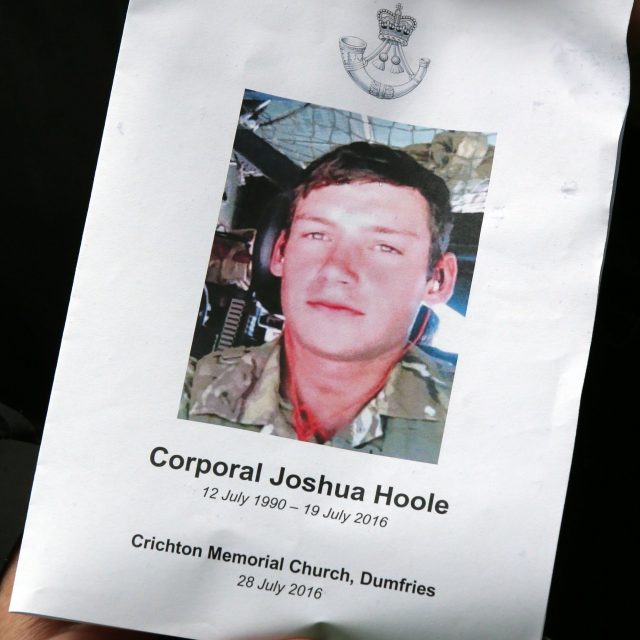 While it has made a number of recommendations for the future, it stressed none of the areas examined directly contributed to, or aggravated, the soldier's death.
But Cpl Hoole's father Phillip Hoole said the report had left "more questions than answers".
In a statement released a day after the official report was published, Mr Hoole said: "I have therefore written my own report which I have sent to the Coroner respectfully asking for the inquest to be re-opened so that these questions can be answered and lessons learned."
He said he believed that "if the correct checks and balances for the safe conduct of an AFT (annual fitness test) had been followed; it should not have started and having started it should have been stopped on a number of occasions."
Cpl Hoole, from Ecclefechan, near Lockerbie, Dumfries and Galloway, had been due to marry his fiancee this year.
He was taking part in a training session as part of a course which was described as "both mentally and physically demanding".
Cpl Hoole collapsed at about 6.30am on July 19, 2016. Temperatures peaked later that day at just above 30C (86F).
A Ministry of Defence (MoD) service inquiry (SI) into the death was carried out by the Defence Safety Authority and, while it did not reveal the exact cause of death, it found it was "within the definition of SADS".
It found a combination of SADS trigger factors – exercise, heat, adrenaline levels and potentially an imbalance of blood salt levels – were "contributory to this accident", but concluded: "The SI found no aggravating factors in this accident."
Writing in the report, Lieutenant General Richard Felton said: "Cpl Hoole was a physically fit, determined and capable infantry soldier."
He added: "His sudden death … was an unforeseen tragedy."
The panel concluded the soldier did not die as a direct result of doing the annual fitness test (AFT).
An Army spokesman said: "Our thoughts remain with the family and friends of Cpl Hoole at this difficult time. The safety of our personnel is our absolute priority and, while deaths in training are rare, any death is a tragedy.
"We are carefully considering the recommendations from Defence Safety Authority's independent inquiry, as well as the concerns Cpl Hoole's father has raised."