Mandarin and Arabic will be of key importance to the UK's future prosperity after Brexit, according to a new report.
The nation will need the two languages, as well as European tongues including Spanish, French and German, in order to be "a major international trading partner beyond Europe", it says.
But the British Council report warns that currently, the UK is facing a "languages deficit" and more must be done to upgrade the country's skills.
The study identifies Spanish as the top language the UK will need once it leaves the EU, followed by Mandarin Chinese, French, Arabic and German – based on a range of economic, geopolitical, cultural and educational factors.
Mandarin has moved up in importance since 2013, the last time the analysis was conducted to find the languages the UK needed most, taking second place, compared to fourth four years ago, while Arabic dropped slightly from second to fourth.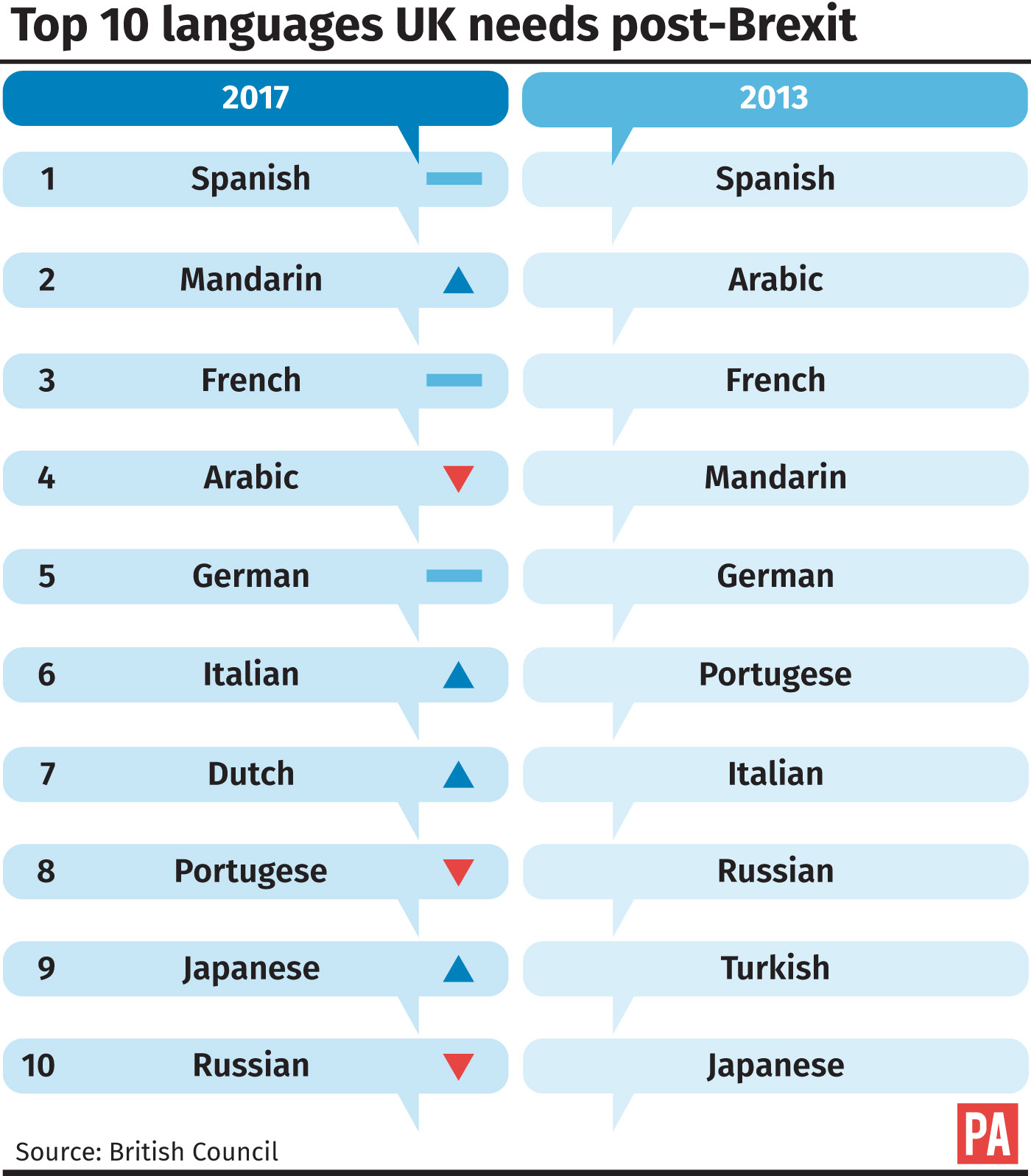 "Among the skills and capabilities the UK will need, an understanding of other cultures and languages will continue to be important for successful international relationships at all levels.
"Both within and beyond Europe, we will need to reach out beyond English, not only to maintain and improve our economic position but to build trust, deepen international influence and cultural relationships, and to keep our country safe."
Official figures have shown a continued drop off in French and German A-level entries this summer, while the numbers taking Spanish rose slightly. There were increases in entries for a number of other foreign languages, including Arabic, Chinese and Italian.
At GCSE, there was a 9.9% fall in entries for French this year, compared to last, with numbers plummeting by more than a quarter (down 26.5%) since 2010, while German saw a 13.2% fall compared to last year, and the numbers are down by more than a third (38%), since 2010.
The report calls for "a bold new policy" to improve foreign language learning, and suggests that languages be given the same priority as maths and science in schools
Vicky Gough, of the British Council, said: "Languages are invaluable for a generation growing up in an increasingly connected world. If the UK is to be truly global post-Brexit, languages must become a national priority. There are few more important languages for the UK's future prosperity than Spanish, Mandarin Chinese, French, Arabic and German.
"At a time when global connections matter more than ever, it is worrying that the UK is facing a languages deficit. We cannot afford the apathy around the need for languages to continue and must champion these skills. If we don't act to tackle this shortfall, we're set to lose out both economically and culturally."
Pippa Morgan, CBI head of education and skills policy, said: "Language skills are often a valuable asset to businesses that export around the world and for those young people equipped with modern languages, it can open up real opportunities. We need to find ways to encourage more students to take-up modern languages by showing just how useful it can be to their careers."