The helicopter pilot who was among four people to die after a mid-air collision with a plane was a "mentor" who had a "distinguished" career, his colleagues said.
Captain Mike Green died alongside his young student when their helicopter collided with the aircraft and crashed in woodland near Waddesdon, Buckinghamshire on Friday.
Mr Green was a senior instructor with Helicopter Services, a firm which offers training flights and gift experiences from its base at Wycombe Air Park.
"Mike was conducting a flight instructor course and was with a student at the time of the incident. Both pilots lost their lives.
"We have received many messages of support and kind words about our friend who, as a senior instructor and examiner, helped and mentored so many pilots throughout the industry during his distinguished career.
"It was an honour to work with you. Captain Green, you will be greatly missed."
Captain Phil Croucher, who had known Mr Green for around 20 years after they had served in the Army together, said his death was a "sad loss".
The head of training at the Caledonian Advanced Pilot Training Ground School also said he believed the crash was an accident and no negligence was involved.
Police and air accident investigators continue to scour the crash site on the Waddesdon Estate, the former country seat of the Rothschild banking dynasty, for clues as family members visited the scene.
Officers have yet to officially release the identities of the victims, who were all men, saying formal identification had not taken place.
Mr Croucher, 65, said Mr Green, also thought to be in his 60s, was on a training flight with a young student.
He told the Press Association: "It's a sad loss. We have lost somebody with a vast amount of experience that could have been passed on to younger people, apart from him being a nice guy generally.
"I used to see him, I popped in on Wednesday when I was passing and had a cup of tea. He was always there before anybody else.
"All of a sudden he's not there.
"He's gone through no fault of his own and everyone's lost a good friend and mentor."
The collision happened at 12.06pm and both aircraft, carrying two passengers each, are believed to have come from the Wycombe airstrip, also known as Booker Airfield, which is about 20 miles from the crash site.
Mr Croucher said claims on a pilot forum by an air traffic controller who said he saw the aircraft disappear on radar suggested the two had collided accidentally.
He said the claims were the helicopter had been flying a straight path and the aircraft was descending, and the pilot would have been unable to see due to "blind spots" below and behind, although he added it was "conjecture".
"From the available evidence, it's as near to a proper accident as you are likely to see – no negligence, absolutely none," he said.
"That airspace was free airspace."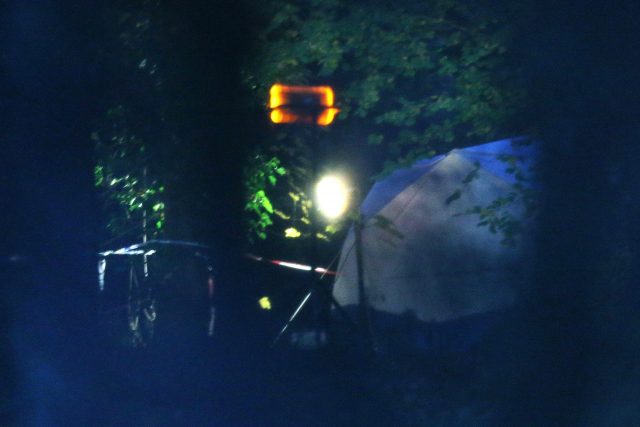 Superintendent Rebecca Mears of Thames Valley Police said air crash investigators and police were expected to be at the scene until at least Monday.
She said it was "too early to tell" what might have caused the crash.
The collision occurred at 12.06pm and both aircraft, carrying two passengers each, are believed to have come from the Wycombe Air Park, which is about 20 miles from the crash site.
Mr Green was a senior instructor with Helicopter Services, based at the airfield.
A spokesman for the company, which offers training flights and gift experiences, declined to comment.
The plane involved was a Cessna 152 built in 1982 and owned by Airways Aero Associations which is based at the Wycombe Air Park.
It had flown almost 14,000 hours as of May and had previously suffered substantial damage to its landing gear, propeller and engine following a crash at a Cornish airfield in 1993.
An archived report by the Air Accidents Investigation Branch (AAIB) shows the pilot admitted the accident was caused by his "misjudgment and lack of experience".
AAIB investigators could be seen at the scene carrying what appeared to be wreckage debris in clear plastic bags.
Also at the site were fire investigators and police. Police tape marked the inner cordon which could be seen through the thick bushes that surround the area.
Waddesdon Manor said in a statement: "Lord Rothschild and his family extend their condolences to the families of all affected, and their thanks to the emergency services for their swift response and professionalism."