Theresa May has said countering the far-right is just as important as dealing with the Islamist threat amid a deepening transatlantic row with Donald Trump over extremism.
The Prime Minister reiterated Mr Trump had been "wrong" to share inflammatory anti-Muslim videos posted online by the deputy leader of the far-right Britain First group.
The extraordinary flare-up between the two key allies came after Mr Trump responded directly to her assertion – originally made through her official spokesman – that his re-postings had been wrong.
In a trademark late-night tweet, he wrote: "@Theresa_May, don't focus on me, focus on the destructive Radical Islamic Terrorism that is taking place within the United Kingdom. We are doing just fine!"
His comments provoked an outcry in Parliament with MPs demanding the cancellation of the state visit and calls for the president to apologise to the British people.
Mrs May, in Jordan on the final day of an official visit to the Middle East, condemned Britain First as a "hateful organisation" dedicated to spreading division and mistrust.
In pointed remarks apparently aimed at Mr Trump – who has been criticised in the past for his reluctance to condemn the far-right in the US – she said it was essential to deal with terrorism and extremism "from whatever source they come".
Asked whether she regarded the president as a "supporter and enabler" of far-right groups, Mrs May said: "We must all take seriously the threat that far-right groups pose both in terms of the terrorist threat that is posed by those groups and the necessity of dealing with extremist material which is far-right as well.
"I've commented in the past on issues in the United States on this matter. In the United Kingdom we take the far-right very seriously and that's why we ensure we deal with these threats and this extremism wherever it comes and whatever its source."
In a further sign of the seriousness of the row, Britain's ambassador to Washington, Sir Kim Darroch, said he had raised the Government's concerns with the White House on Wednesday after Mr Trump re-tweeted three videos posted by Britain First deputy leader Jayda Fransen.
Pressed on whether the president's state visit should still go ahead, Mrs May said they had "yet to set a date".
While she stressed that she was not afraid to criticise the US when it was wrong, she also made clear her commitment to preserving the transatlantic partnership.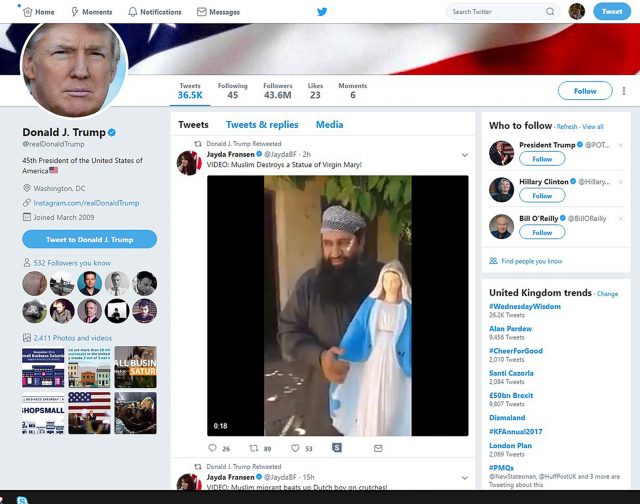 "This is a long-term special relationship that we have. It is an enduring relationship that is there because it is in both our national interests for that relationship to be there," she said.
In the Commons, a string of MPs demanded the cancellation of Mr Trump's visit, with shadow home secretary Diane Abbott saying his behaviour was "offensive to all decent British people".
Home Secretary Amber Rudd appeared to indicate her agreement to a call from Tory MP Peter Bone for the president to delete his Twitter account, telling MPs: "I'm sure many of us might share his view."
But Ms Rudd also urged MPs to bear in mind the importance of the special relationship with the US, including "the unparalleled sharing of intelligence".
London Mayor Sadiq Khan said Mrs May should withdraw the invitation to the president, while Liberal Democrat leader Sir Vince Cable said he was an "evil racist" who should not be given the honour of a state visit.
Shadow foreign secretary Emily Thornberry said Mr Trump's tweets were designed to "humiliate and belittle" the Prime Minister and had put the Queen in a "very difficult and invidious position" as his host for the visit.
Meanwhile Theresa Scrivener, the Bognor woman to whom Mr Trump initially misdirected his tweet to Mrs May, told the Press Association she was now awaiting an apology for the White House.
"I'm just glad he was not contacting me to say he was going to war with North Korea," she added.