Health professionals fear those trying to rebuild their lives after the devastating Grenfell Tower blaze will be hit with a fresh wave of emotion, six months on from the fire.
Extra mental health staff will be available over the Christmas period amid concern that it will be a particularly difficult time for families of the 71 people killed and those isolated in emergency accommodation.
Staff will also attend a memorial service at St Paul's Cathedral, six months on from the fire on Thursday, in anticipation that it will trigger strong feelings in those attending, the Central and North West London NHS Trust (CNWL) said.
The trust has seen more than 1,800 people since the June 14 blaze through its screen and treat programme for post-traumatic stress disorder (PTSD) and GP appointments for broader Grenfell-related health concerns.
It said many survivors were not ready to start treatment, with some reluctant to begin therapy without the stability of a permanent home.
Robyn Doran, chief operating officer of CNWL, told the Press Association: "Anniversaries are always difficult.
"And also key events such as Christmas and all other festive events in terms of different communities, because they're a time that families come together, and we all know that from our own experiences of grief.
"So actually it will be the first birthdays, the first Christmas, things such as the memorial service.
"Most of us don't have to go through a memorial service and it's really important that we have a memorial service but it will trigger things for people.
"And not all families have had the funerals yet, so that will also bring up things. So we're expecting that it will trigger more emotions for people and it's really important we're there."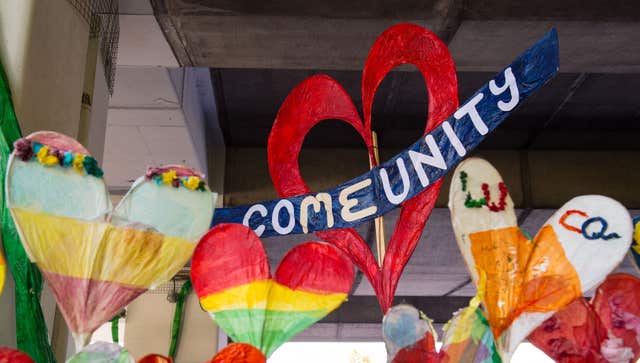 "We have the inquiry, we have the memorial service, we're in the run-up to a holiday period, so it's almost all the more important that we are working with and through organisations like Grenfell United (a group set up by those who escaped the blaze) and some of the faith groups to really help connect directly with local people in the way that works for them."
Ms Doran also praised the community around the tower in North Kensington for being an unprecedented source of support and strength in the months since the devastating fire.
She said: "We recognise it's a privilege to work with this community. This community was on the ground since day one and they were delivering services themselves.
"They have continued to support each other in a way and actually demonstrate a pride in their community and actually support in each other in a way that I've never seen before."
She added: "We recognise it's really important we listen to them.
"There are a lot of skills in this community. We've employed people from the community in our outreach services … because we recognise that's really important, and we're hoping that we can carry on working with them in the way we are to develop new models that will help them heal now and in the future."
The trust has "tried to be as flexible as possible from day one", she said, with staff providing support at funerals, escorting former residents on visits back to the tower, and taking support directly into hotels, where the majority of families remain.
It has employed two survivors to work in its child mental health services and two people who live near the tower as psychology assistants to help with outreach.
Staff have also changed the wording used to discuss treatment, after feedback that the clinical terminology was alienating people who considered themselves traumatised rather than experiencing mental health difficulties.
Since the fire, 936 adults have been identified as being in "urgent need" of PTSD treatment, while 191 children and young people have been referred to the area's Child and Adolescent Mental Health Service (CAMHS).
Some 536 patients are undergoing treatment, which has been completed by 62 adults and 40 children, the trust said.
Local GPs have seen 956 patients for a variety of Grenfell-related concerns around well-being and physical health, about a quarter of whom have been screened for PTSD.
The trust said the overall mental health response so far has cost more than £2 million, with £995,000 spent on the screen and treat programme.
It also includes £615,000 on outreach, £331,000 on support for young people and £185,000 to other London agencies helping to provide services.