An Army bomb disposal squad has carried out a controlled explosion after a detailed search of an address in Chesterfield following recent terror raids where four men were arrested.
Police said a single controlled explosion took place on Friday afternoon at a nearby safe location to "safely dispose of material found at the property".
None of the surrounding premises were evacuated as a result, the force said in a statement.
Counter-terrorism officers had been searching the address following raids on December 19 to foil a suspected Christmas terror plot.
Chip shop owner Andy Sami Star, 31, as well as three other men, aged 22, 36 and 41, were arrested in the raids.
Officers have been granted until Christmas Day to decide whether to charge the four men and they are being held in custody.
Superintendent Michelle Shooter said: "I would like to thank the local residents and businesses for their continued patience and understanding whilst the detailed search of the premises continues.
"Public safety is our priority and we understand events like this can be concerning. Our message remains for local people to remain alert but not alarmed."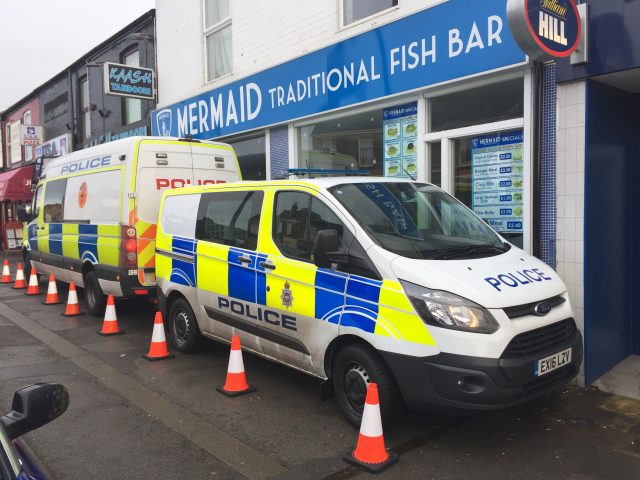 An area of the north Derbyshire town was sealed off for much of Tuesday as the bomb disposal team worked with large numbers of police behind a cordon.
In the Meersbrook area of Sheffield, residents said they were woken by police blowing open the door of a run-down terraced house as their street was swamped by heavily armed officers in protective gear.
A few miles further north, in the Burngreave area, a mosque and community centre was sealed off, with local people telling similar stories of being woken at 6am by a series of loud bangs and camouflaged officers with guns.
Two other raids are understood to have happened at a flat a short distance from the centre in Burngreave and a property in the town of Stocksbridge, just north of Sheffield.
The operation was mounted as police and MI5 tackle a terror threat seen as unprecedented.
In addition to five attacks in London and Manchester, Home Secretary Amber Rudd revealed earlier this month that security agencies have foiled nine plots since the Westminster atrocity in March.
Counter-terror teams are running about 500 live investigations involving 3,000 individuals at any one time, while there is also a wider pool of 20,000 subjects of previous probes.