A police community support officer (PCSO) commended for helping victims of the Manchester Arena terror attack within a minute of the explosion has said: "I'm just an ordinary bloke who puts a uniform on and goes to work and helps people."
Jon Morrey was on patrol at Manchester Victoria Station when the blast ripped through the foyer of the arena on May 22 last year, leaving 22 victims dead.
On Friday, he was one of four British Transport Police (BTP) officers to be commended for their actions in a special ceremony at Manchester Town Hall, along with dozens of colleagues and rail staff.
Mr Morrey, 43, said he and his colleagues were trained not to run towards explosions but they ignored that advice and were treating the seriously wounded within 60 seconds of hearing the blast.
The former Royal Navy chef from Shaw, Greater Manchester, said he knew immediately what had happened as the explosion sounded like a warship gun blast.
He said what he saw was "horrible and shocking".
"I remember there was glass everywhere and shrapnel and people crying out for help," Mr Morrey said.
"I just went into automatic and just treated it like training exercise.
"They were everywhere, all asking for help. And I'd be dealing with one and I'd say, 'Don't worry, I'll be there in a second'.
"I helped all the people I helped to the best I can. I'm glad that I could help them."
Mr Morrey was the first at the scene with fellow BTP PCSOs Mark Renshaw and Lewis Brown, and Police Constable Jessica Bullough.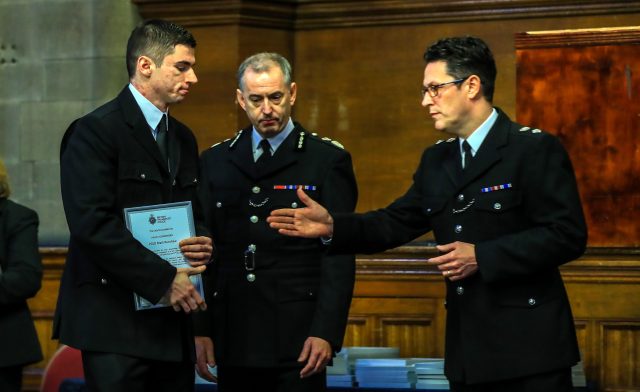 BTP Chief Constable Paul Crowther told the packed hall it was "very humbling" to hear the stories of those involved on the night.
He said: "There is no doubt that the extraordinary acts of bravery, professionalism and compassion demonstrated by all the individuals commended today were truly remarkable."
Pc Renshaw – who is now a police officer with BTP – described how he was confronted with one young girl who wanted him to help her seriously injured mother, who did not survive.
He said: "She asked me if I could help her mummy and, when I went round, her injuries were that severe that I couldn't.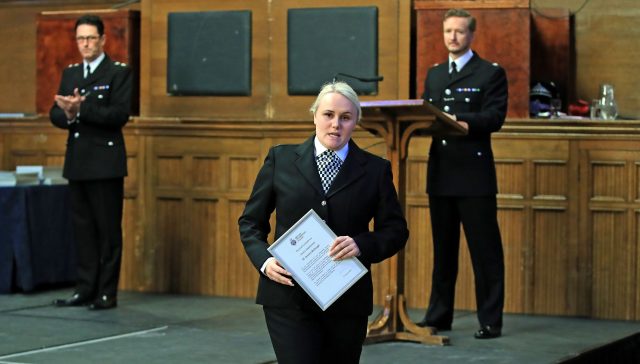 "I just made a decision to take her daughter out of what was a horrendous scene and I told her that before I took her daughter out."
His colleague, Pc Bullough, had only been a police officer for just over a year when she raised the alarm after hearing the explosion.
She said the four officers at the station rushed over the bridge, where they were confronted by a "horrific" scene.
She said: "All four of us went inside. It was full of smoke, smell and there was blood everywhere.
"It was scary. I will admit. You're never in that position in your life. But we've been trained to deal with people and we just did what we could on the night."
The fourth officer – Lewis Brown – had only been a PCSO for a few weeks at the time of the blast. He said he now wants to be a police officer.