The Brexit Bill is expected to clear its final stages in the Commons on Wednesday but is heading for a rocky ride when it goes before peers.
Theresa May has already suffered one defeat on the European Union (Withdrawal) Bill  at the hands of MPs but faces even tougher battles when the legislation enters the Lords.
Tory former Cabinet minister Ken Clarke, a long-standing champion of the EU, said he hopes the peers make an "enormous" number of changes when the Bill goes before them at the end of January.
But prominent Tory Eurosceptic Jacob Rees-Mogg warned peers the upper chamber faces the prospect of fundamental reform if it attempts to hamper Brexit.
Peers would be left looking "ridiculous" if they tried to force a second referendum on the British public and the institution will "get into difficulties", he said.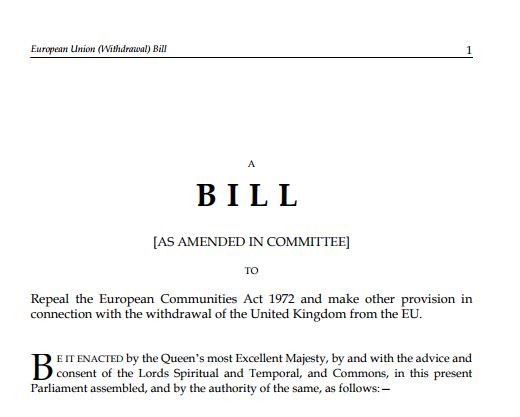 "This Bill is the single most important step towards guaranteeing legal continuity on day one outside the EU, and it has been improved by MPs from across the House during committee stage," he said.
"Labour say over and again that they support the Referendum result, and can be trusted to act responsibly, but today that will be put to the test. They can either back this Bill or vote for chaos."
The Liberal Democrats will attempt to force the Government to abandon Brexit if Parliament rejects the exit deal or a no deal outcome.
Tom Brake, the party's Brexit spokesman, said: "We should be able to reject a poor deal or 'no deal' and instead vote for an exit from Brexit or an extension of the negotiations."
The Bill is expected to complete its final Commons stages on the one year anniversary of the Prime Minister's Lancaster House speech setting out her vision for Brexit.
Lord Malloch Brown, who chairs the pro-EU group Best for Britain, said: "The vague principles outlined in the speech have been replaced with uncertainty, unease and fear for the future. The public are starting to worry about the government's mishandling of Brexit.
"The government has lost the economic argument. Period. It now skulking behind the false claim that its too late to turn back. That's the stuff of train wrecks."