The Scottish economy grew 0.2% in the third quarter of 2017, the Scottish Government's latest GDP figures show.
Despite the rise, Scotland continues to lag behind the UK which recorded a 0.4% GDP increase in the same period.
Scottish growth between July and September was driven by a 1.2% increase in production industries output, while agriculture, forestry and fishing rose by 0.7% and services output by 0.2%.
Continued contraction in the construction sector dragged Scottish GDP down, as the industry figure fell for the seventh quarter in a row with a drop of 2.9%.
On an annual basis the Scottish economy grew by 0.6% between the third quarter of 2016 and the same period in 2017, while the UK economy increased by 1.7%.
Economy Secretary Keith Brown said: "Despite the impact that continued Brexit uncertainty is having on our economy, today's figures demonstrate the resilience of the Scottish economy with the third consecutive quarter of positive growth.
"Although more modest than we would like, it is encouraging to see the economy grow by 0.2% overall.
"Within this, it's particularly heartening to see services continue to expand, and production up by 1.2%, with a return to growth for manufacturing."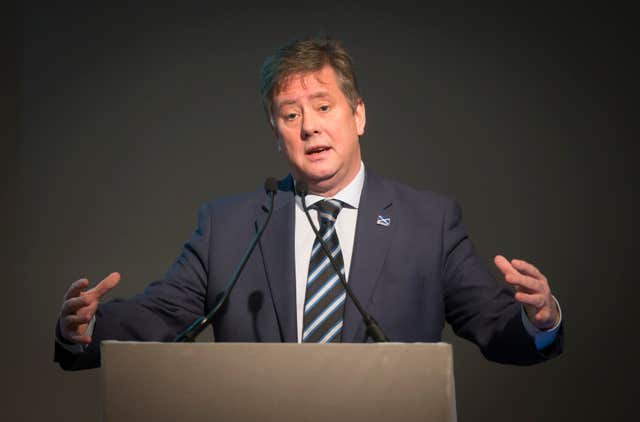 Scottish Secretary David Mundell said: "These latest GDP figures show the Scottish economy growing, but much more slowly than we would like, and continuing to lag behind that of the rest of the UK.
"The UK Government is investing – including with an extra £2 billion announced in the Budget – to increase prosperity in Scotland, and I urge the Scottish Government to use its extensive new powers to do the same.
"But its recent decision to make Scotland the highest taxed part of the UK risks damaging, rather than growing, our economy."
Economist John McLaren said Scotland's economic performance "continues to disappoint" and the Fraser of Allander Institute said quarterly growth "remains fragile and below trend".
The Federation of Small Businesses said the economy was "disappointingly slow-moving" while the Scottish Trades Union Congress warned the construction figures show a "serious weakness" in the economy in the wake of Carillion's collapse.
Labour's economy spokeswoman Jackie Baillie said: "The complacency of the Nationalists, who have hailed these figures as good news, is breathtaking at a time when the Scottish economy remains in dire straits."
Her Greens counterpart Patrick Harvie said: "GDP gives a very limited insight into our economy, when the real figures we should be focusing on are stagnant wages, persistent poverty and the failure to promote low-carbon capital investment."