Construction giant Carillion was owed £40 million by the Government when it went into liquidation, sources have claimed.
A number of small firms have complained they were owed money by the company, sometimes stretching back four months.
But sources said Carillion was owed as much as £40 million on Government contracts.
Meanwhile, industry representatives have warned that help offered by the banks to businesses owed money by the failed outsourcing giant will be no more than a "sticking plaster" solution.
Business Secretary Greg Clark said ministers were working with banks, trade unions and industry organisations to ensure that everything possible was done to provide "continuity" to thousands of small businesses which have been delivering services as sub-contractors to Carillion.
Banks had agreed to provide "tailored support" worth almost £250 million to those facing a hit from the failure of the company, which owed huge sums when it went into liquidation on Monday, he said.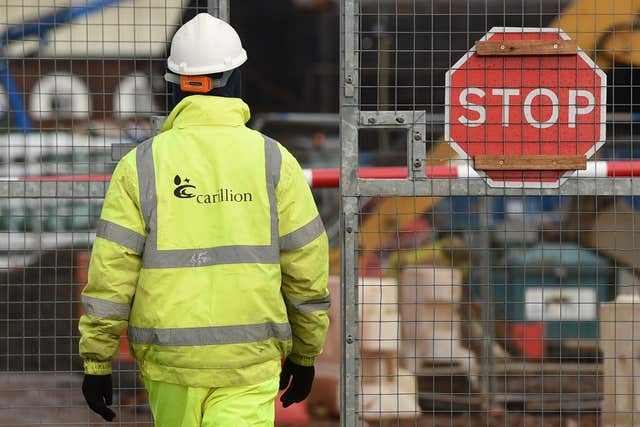 "It is only going to be a sticking plaster to help those who are viable to continue in business and recover in time," Mr Cherry told BBC Radio 4's Today programme.
"We all need to understand that it is very unlikely – as in any administration or liquidation – that those who have already invoiced Carillion up to the announcement on Monday are going to get anything out of this at all."
Mr Clark said that it was "an issue for the Official Receiver" to establish what proportion of Carillion's debts would be paid out to creditors once its assets had been realised.
But he made clear that the payment of executives' salaries would not be treated as a priority, telling Today: "They are creditors along with everyone else."
"There is an exercise going on to make sure that all the contractors are identified, that they are given assistance from the banks, which is very important, but also – because most of these contracts are profitable – that they can be reassigned and can continue," said Mr Clark.
Ministers are working to ensure that "everything we can do to maximise the continuity of these small businesses is done", he said.
Mr Cherry said that Carillion's collapse had highlighted the problem of late payments, which should be stopped "as a matter of urgency".
The FSB had raised concerns with Carillion last year about its policy of extending payment terms to 120 days, he said.
Labour leader Jeremy Corbyn has said his party would radically shake up procurement rules to end what he called the "outsourcing racket".
Mr Corbyn told The Guardian he wanted to stop "middlemen creaming off the profits" by blocking the Government and local authorities from outsourcing services unless they were failing.
In a departure from cross-party consensus on delivering public services which was cemented by Labour former prime minister Tony Blair, Mr Corbyn said if a decision was taken to outsource a service, there would be a legal statutory requirement to prepare an in-house bid.
Mr Corbyn told The Guardian: "We will rewrite the rules to give the public back control of their services.
"I'm sorry, but if these are public contracts we should be the manager and not have a middleman like Carillion creaming off the profits."
But Mr Clark said that Carillion's failure should not be used as a justification for ending the system of private sector provision of public services.
Top bosses at Carillion are expected to be hauled in front of an influential group of MPs as the fallout from the construction giant's collapse intensifies.
Parliament's Liaison Committee, which consists of all select committee chairs, has opened an investigation into Carillion as fears mount over jobs and pensions.
Veteran Labour MP Frank Field, who chairs the work and pensions committee, said: "I will be proposing we take evidence from the company directors, the trustees, the pensions regulator and the auditors who somehow concluded Carillion was a going concern."
Anger has been vented over former Carillion chief executive Richard Howson's bumper pay packet during and after his tenure, as well as that of ex-finance chief Zafar Khan and interim boss Keith Cochrane.