A post-Brexit free trade agreement with the EU could be vetoed if the UK insists on the freedom to diverge from European standards and regulations, Brussels's chief negotiator has warned.
Michel Barnier said that any deal which failed to preserve a level regulatory playing field would face "difficulties" in securing the ratification of national and regional parliaments in the remaining 27 member states – including his homeland of France.
Up to 38 national and regional legislatures in the EU will hold a veto on any trade deal, and any one of them has the power to block it. An earlier agreement with Canada almost collapsed in 2016 over a threatened veto from the Walloon parliament in Belgium.
Speaking at the Spanish Parliament in Madrid, Mr Barnier said that successful ratification could hinge on Britain's willingness to maintain convergence with the rest of the EU on issues such as food standards, environmental protections, consumer rights and financial regulation.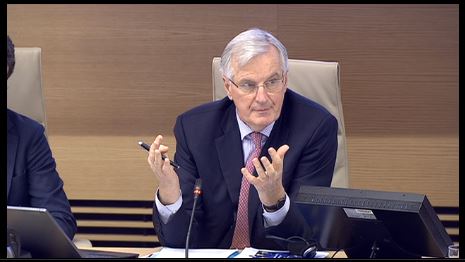 US Commerce Secretary Wilbur Ross recently suggested that a trans-Atlantic agreement on trade could depend on the UK being ready to ditch EU rules such as the ban on imports of American chlorine-washed chicken.
"The question is whether the British, as they leave the EU, will also leave its regulatory model in order to draw closer to the Americans or others," Mr Barnier told the Spanish parliament's Joint Commission on the EU.
"It's an important question because it will determine the model for co-operation we adopt and the rules we will need to avoid regulatory competition or dumping.
"If we don't find a solution to this question, I can imagine that in many countries – starting with my own – there will be difficulties in securing ratification of a trade deal with the English.
"If we want to succeed – and I hope to succeed – we need to find a way to guarantee what is called in English a `level playing field'."
There was "no reason" why the EU would weaken its own social model to accommodate a UK desire to converge, he said.
Mr Barnier told Spanish MPs he believed it was possible for an EU/UK trade deal to be concluded within the expected two-year transition period after the date of Brexit in March 2019.
But he warned that the risk of a disorderly exit would remain until the withdrawal deal under Article 50 of the EU treaties is finalised and endorsed by the European Council, European Parliament and Westminster. National and regional parliaments do not hold a veto on the withdrawal agreement.
Asked what model London was seeking for the post-Brexit relationship, he replied: "I can't tell you. I'm waiting for British proposals, but I have heard the red lines they have laid down."