Significant powersharing compromises allegedly conceded by the Democratic Unionists and Sinn Fein must be made public, the SDLP leader has said.
Proposals to protect Irish language speakers, the ban on same-sex marriage and a lack of consensus on how to deal with the Troubles legacy remain key areas of disagreement.
Sinn Fein claimed not enough progress was made during pre-Christmas talks and there was no point in conducting negotiations in public.
The parties returned to Stormont on Wednesday for more dialogue to rescue the crisis-hit institutions – with the DUP urging a speedy return to power.
SDLP leader Colum Eastwood said: "We are not interested in propping up a farce and it's about time we began to be honest with the public because the two governments have both confirmed to us today what we all already know – that last November both the DUP and Sinn Fein compromised significantly, compromised significantly, and they are denying that truth to the public."
He added: "Stop trying to pretend to the public that nobody has moved and nobody has compromised."
The first days of the latest round of negotiations saw Northern Ireland Secretary Karen Bradley and Irish deputy premier and foreign affairs minister Simon Coveney meet with the five main Stormont parties.
The DUP said it was time to get devolved Government back up and running.
The largest unionist party and Sinn Fein met Irish and British government ministers together.
More than a year since the institutions imploded, and with financial pressures mounting on the region's rudderless public services, the UK Government has characterised the initiative as a final opportunity to salvage the devolved institutions.
East Londonderry MP Gregory Campbell, one of the DUP's most senior negotiators, said there had been no walk outs on the first day of renewed talks.
He said the need to set a budget and financial difficulties facing Northern Ireland's health and education services had created added impetus.
"We have passed the time for talks, it is time to get government back up and running."
His Sinn Fein counterpart Conor Murphy said he did not see any point in publishing any details on last autumn's DUP/Sinn Fein talks.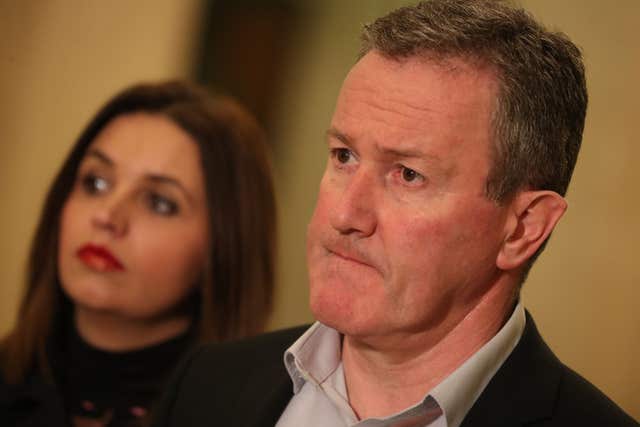 "But we have never conducted our negotiations in public and that has served negotiations well over the last 20 years, so I don't think it serves any point to conduct negotiations in public."
Ulster Unionist leader Robin Swann said his party held a forthright and honest meeting with Mrs Bradley and called for an inclusive process.