Survivors of historic child abuse have made a desperate plea for Stormont politicians to restore Northern Ireland's devolved government.
Victims and campaigners were at Parliament buildings as a fresh round of talks to save the government started on Wednesday.
In an impassioned appeal, Margaret McGuckin, who suffered abuse at a Belfast orphanage, said: "How many times have we to ask and plead, with tears in our eyes?
"Show some compassion. Show some leadership and get back together. Please, or we are all going to be dead and gone."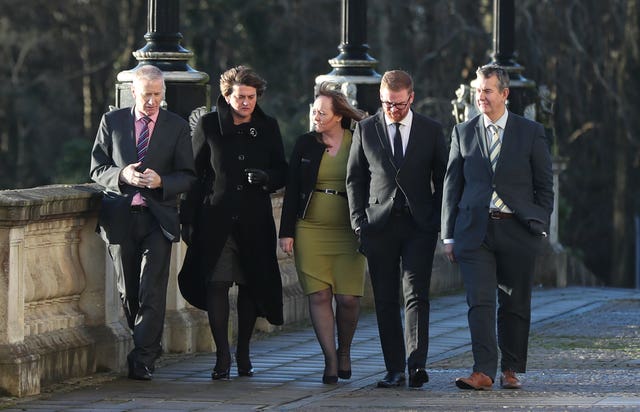 Ms McGuckin added: "A year after the report by Sir Anthony Hart found there was systemic abuse and still nothing, no one has lifted a finger to help our victims.
"Every week we hear of another one dying."
The Historical Institutional Abuse (HIA) inquiry was set up to examine allegations of child abuse in children's homes and other institutions in Northern Ireland from 1922 and 1995.
It was chaired by retired High Court judge Sir Anthony Hart.
The collapse of devolution last year has led to a delay in implementing Sir Anthony's findings.
Earlier on Wednesday, David Sterling, head of the Northern Ireland Civil Service, told a Westminster select committee officials were preparing draft legislation to redress survivors of institutional abuse if the Stormont Executive is not restored.
Ms McGuckin said: "David Sterling has said he is going to draft legislation in the summer.
"We haven't months. We haven't got weeks, we haven't even got days for some of our people.
"The politicians are a complete disgrace; they have no heart. They are just playing it like a game of football here and we are stuck in the middle."
Meanwhile, in a separate statement, Gerry McCann, an abuse survivor and member of the Panel of Experts on Redress, said: "We welcome news that David Sterling will ask the Secretary of State to deliver legislation for victims if Stormont isn't there to do the job. But we don't want a redress scheme and other measures which sell victims short after the extent of suffering which so many have endured."