Victims of the Northern Ireland Troubles have announced plans for a mass march in Belfast to demand action on stalled political efforts to deal with the legacy of the conflict.
A number of groups representing relatives bereaved in different fatal incidents have come together under the banner "Time for Truth" and urged people to join their protest on February 25.
Their call comes amid ongoing political stalemate on proposed new mechanisms to deal with the past.
An independent police investigation unit; a truth and recovery body; and increased funds for coroners' inquests and Police Ombudsman probes are all on ice due to the lack of consensus at Stormont.
Legacy is one of the key issues at the heart of the powersharing crisis in Northern Ireland, with local politicians and the UK and Irish governments under mounting pressure from victims to act.
Announcing the march, Emma Rogan, whose father Adrian was shot dead in the UVF Loughinisland massacre in Co Down in 1994, said the truth cost nothing.
"I am calling on everyone to come out, put your feet on the streets and march with us," she said.
"Solidarity, everybody together sending a strong clear message that we deserve and we need the truth.
"It's human decency that people would get the truth and know what happened to their loved ones and know why."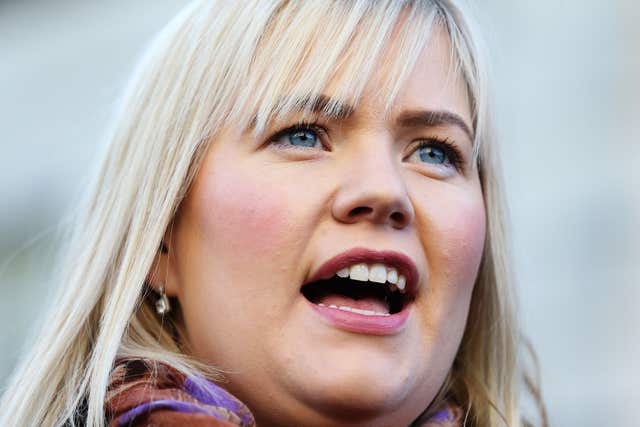 "For him and his memory, and for his legacy, I require the truth and I need the truth for him.
"He was afforded no dignity in his death. He lay dying along with five other men on a pub floor in '94 while they watched the World Cup.
"The truth costs nothing, the truth belongs to everybody."
The majority of victims that have come together in the new group were bereaved through loyalist paramilitary or state violence.
At the launch event, John Teggart, whose father Danny was killed by soldiers in Ballymurphy in west Belfast in 1971, rejected the suggestion the march would only represent one side of the community.
"It is open to all families irrespective of their backgrounds who lost loved ones or who were injured in the conflict," he said.
"We are calling on all sections of society to support the Time for Truth march, the pursuit of the truth is a matter for all society.
"This covers all walks of life – all victims under the one banner."