The Duke of Cambridge has praised the "energy, creativity, innovation and engagement in the world" shown by Britain and Sweden as his tour of the Nordic country drew to a close.
Speaking at a glittering Stockholm reception celebrating the Nordic country's cultural life, where Kate wore a velvet dress by Erdem, the Duke said they had one aim when they planned the visit.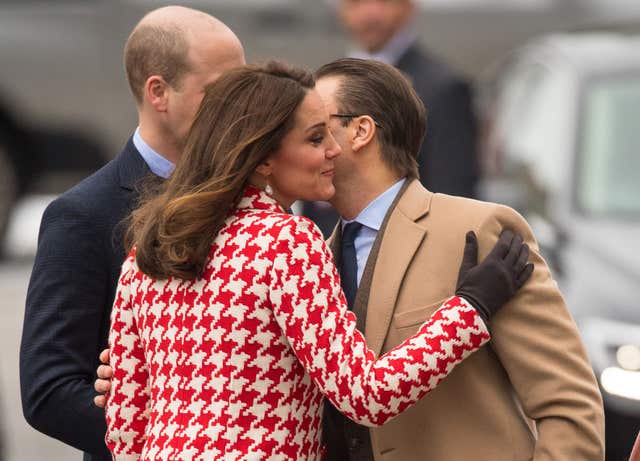 The Duke listed qualities he admired, from the "Swedish love of the outdoors" even in freezing weather which he found "inspiring", to the "extraordinary contribution Swedish design and fashion has made to the world".
At the event staged at the Fotografiska Gallery, William concluded by telling the guests who included leading faces from the arts to sport: "Tonight is a celebration of energy, creativity, innovation and engagement in the world – all words we associate with both Britain and Sweden."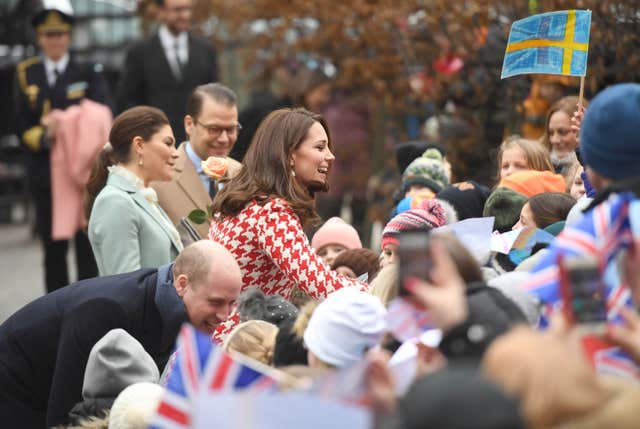 As they admired an X-ray piece of Sean Connery, entitled James Bond, Nick quipped to Kate, who is expecting her third baby in April: "Don't worry, I haven't got X-ray vision." The Duchess laughed and replied: "I hope you haven't got your camera with you."
The artist said later: "We had a conversation about ultrasound, because she has been having scans while she is pregnant, and I told her that I'm inspired by the work of radiographers. She was really interested and she's a passionate photographer. William said that she takes pictures of her children every day."
Meanwhile William admired tattoo artist Jesper Lagergren's inkings, joking that he might even get one himself.
"He said 'they are cool tattoos' and he asked how many I have, but I wasn't able to answer because I don't know," said Jasper, whose head is covered in ink. "I said if he was interested I could fit him in tomorrow and he joked that he might get a tattoo of the Swedish flag."
Earlier Victoria and Daniel affectionately greeted their royal guests on the final full day of their three-day tour of Stockholm when they arrived at a leading medical research centre.
Victoria and Daniel, who were guests at the Cambridges' 2011 wedding and are getting to know their distant UK relatives, showed their growing bond with the British royals with the warmth of their welcome.
Later they invited William and Kate to their home Haga Palace, where the four enjoyed a private tea and the British royals met the couple's two young children.
Kisses on both cheeks were exchanged between the royal women and Daniel and William shook hands outside the Karolinska Institute in a snowy Stockholm, where the group met leading scientific researchers to discuss groundbreaking academic work in managing mental health challenges.
William and Kate have made campaigning on mental health issues one of the central themes of their public working lives.
Their Heads Together mental health campaign saw a series of events staged last year to encourage Britons to talk about their psychological problems or provide a sympathetic ear for others.
Later at the Matteusskolan, a combined primary and comprehensive in the city centre, the Duke, Duchess and the Swedish royals went on a walkabout meeting dozens of children waiting to greet them outside.
William and Kate high-fived a number of children from the school bending down to speak to the youngsters.
The Duke repeatedly told them "you've got cold hands" and complimented the youngsters on the Swedish flags they were waving.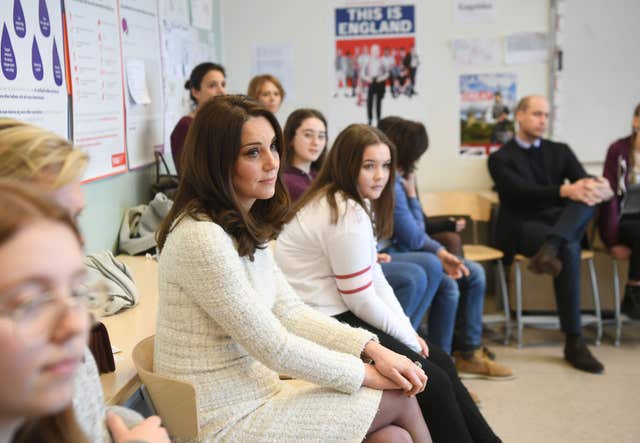 "I asked her if she knew J Hus," said Lucas Tinseau, 15, "She said 'I will look out for him'."