Theresa May has met President Xi Jinping in Beijing in the diplomatic high point of her three-day trip to China.
Seated opposite President Xi in the opulent Diaoyutai State Guesthouse, Mrs May said Britain and China were enjoying a "golden era" in their relationship, and added that she wanted to "take further forward the global strategic partnership that we have established".
And she said there were issues on the global stage where the UK and China can "work together" as permanent members of the UN Security Council and fellow "outward-looking countries".
Shortly before her encounter with Mr Xi, the PM learned that she had been granted the affectionate nickname "Auntie May" by some Chinese.
An interviewer on TV network CCTV told her: "That's really a kind of a call for Chinese – you're one of the members of the family."
Mrs May took time out from her round of official meetings to tour the Forbidden City – former home of China's emperors – with husband Philip.
And Mr May enjoyed a cultural programme laid on by their hosts, including a trip to the Great Wall.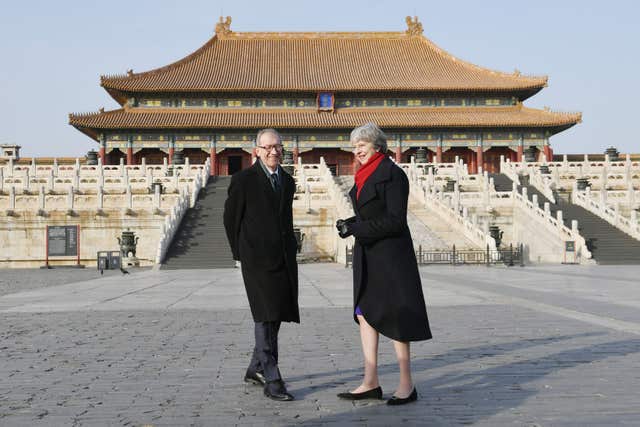 They are understood to include £1 billion in financial services agreements, a £750 million deal by energy giant BP and a scheme by a Chinese e-commerce outlet to sell £2 billion of UK goods over the next two years.
Mrs May told the Chinese president that the trade side of her visit had been "very successful".
And she added: "The links between us go beyond trade. I'm very pleased with the people-to-people links we have been able to build on in education and in culture too.
"Also, as you say, we are both significant players on the world stage of outward looking countries.
"And as we both sit together as permanent members of the Security Council of the United Nations, there are global challenges which we both face, as do others in the world.
"As you say, there are areas in which we can work together."
Downing Street said that during their 80-minute meeting, Mrs May and Mr Xi discussed their shared determination to end illegal nuclear activity by North Korea and agreed that denuclearisation was the objective.
In the wake of democracy protests in Hong Kong, they restated their commitment to the "One Country, Two Systems" arrangement in places since the former colony was handed back by the UK to China in 1997.
Stating that he was looking forward to building on the success of the UK-China relationship, Mr Xi quoted Shakespeare, saying: "What's past is prologue."
The PM said that, once Britain leaves the EU, it will be free to strike its own trade deals and pointed to the joint trade and investment review which will now take place with China as the first step towards delivering ambitious future trade arrangements.
They also discussed the environment and China's Belt and Road Initiative to improve overland transport links to Europe and the West.