Police received only a trickle of requests to remove images from a vast collection of mugshots after a new deletion regime was unveiled, an investigation reveals.
Hundreds of thousands of people were given the green light to ask forces to erase photographs under a Government review published last year.
But figures obtained by the Press Association indicate that only a small number have lodged applications.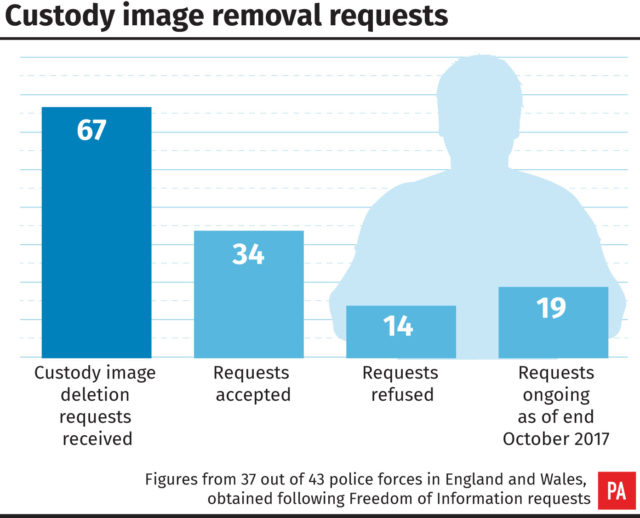 There are around 21 million images on the Police National Database (PND), 12.5 million of which have been enrolled in a gallery which can be searched using facial recognition software.
These totals include cases where multiple images of the same individual are held.
Controversy has centred on the retention of photographs of those who were released without charge or later cleared.
There is no precise figure for the number of images of innocent people held on the PND but it is believed to run to hundreds of thousands.
A Home Office review published in February 2017 concluded that unconvicted individuals should have the right to apply for the deletion of their custody image from all police systems.
Figures from 37 out of 43 forces in England and Wales, obtained following Freedom of Information requests, show 67 requests for custody image removals were received from the date the review was published to the end of October.
In 12 areas no applications were registered at all and only one force received more than 10.
As of the end of October, 34 of the requests had been accepted and images deleted.
Fourteen were refused, while 19 were ongoing. Data was not provided by the Metropolitan Police, the country's largest force.
Under the new regime, people who are not convicted of any offence can request deletion of their custody image – with a "general presumption" that it will be removed unless there is an "exceptional reason" for keeping it.
Forces should automatically review all pictures held after specified periods but the Home Office decided against imposing a "weeding out" exercise to identify those which should no longer be retained.
Questions have been raised about the approach.
In August the Biometric and Forensic Ethics Group, an advisory body sponsored by the Home Office, said those entitled to have their images removed were unlikely to be aware of the application process.
It noted that if all those entitled to apply did so, this would place an "enormous administrative burden" on police, adding: "In these respects the retention regime was considered not fit for purpose."
The new arrangements were drawn up after the High Court ruled in 2012 that a policy on retaining images of unconvicted individuals breached human rights rules.
In his most recent annual report, Biometrics Commissioner Paul Wiles said: "Whether the limited changes proposed will be sufficient in the face of any future legal challenge may depend on the extent to which those individuals without convictions successfully make an application for deletion of their police held custody images."
Director of Big Brother Watch Silkie Carlo called for images of innocent people to be automatically deleted.
She added: "The miniscule number of photos deleted is the unsurprising result of the Home Office's obstructive, failed policy."
Custody images have been described as a "standard feature" of policing, used for a range of purposes including briefing officers so they can identify suspects.
The Home Office said analysis of images "plays a critical role in helping the police to protect the public".
A spokeswoman said: "When doing so it is important that the police act legally, ethically, and transparently.
"We are examining whether, with new police IT systems, it will be technically feasible to link custody images to conviction status as is the case with fingerprints and DNA."
Police use of images is governed by a code of practice, the spokeswoman added.
Chief Constable Mike Barton, the national policing lead for facial recognition technology, said the custody images database helps police identify potentially harmful suspects and keep the public safe.
"But we recognise there is a balance to be reached between individual freedoms and community safety, and we respect people's right to have custody images removed if the conditions are met," he added.
"We are particularly careful when retaining images of youngsters who commit crime, and our rules are different depending on the age of the offender and the seriousness of the offence."