Rare black-tailed godwits released into the wild in the Fens after being hand-reared have been spotted 1,200 miles (1,930km) away, conservationists said.
More than two dozen of the wading birds were set free in the Cambridgeshire Fens, having been hand-reared in a process known as "headstarting" to give them better survival chances and boost the species.
After release, the birds joined wild flocks and two of the godwits have now been reported by Dutch ornithologists among a flock on the Tagus Estuary near Lisbon in Portugal.
The 25 young birds were released last June by wildlife experts from the RSPB and the Wildfowl and Wetlands Trust (WWT) as part of Project Godwit to increase numbers of the birds in the UK.
Eggs were taken from nests and hatched in incubators at WWT Welney Wetland Centre before staff hand-reared the young birds away from dangers such as predators and flooding until they were old enough to look after themselves.
It was the first time "headstarting" had been used in the UK, and the new sightings are the first time any of the birds have been spotted outside the country.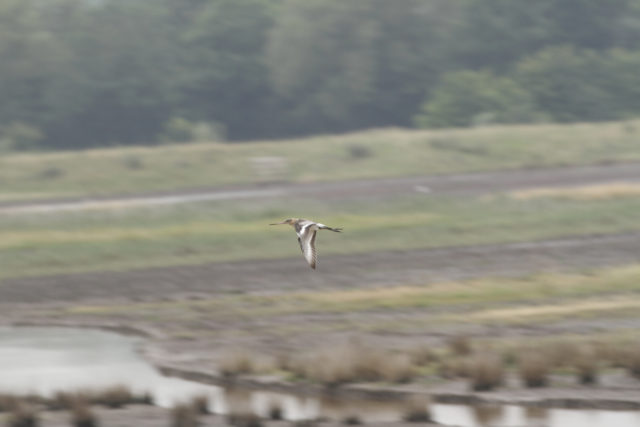 While tens of thousands of one subspecies of black-tailed godwits overwinter in the UK, most of them breed in Iceland.
The UK has a small, vulnerable breeding population of just 50 pairs of another subspecies, which migrate south for winter, and it is these birds the Project Godwit scheme hopes to boost.
The project's manager, Hannah Ward, said: "Bird migration is an amazing feat and it's fraught with dangers.
"These two godwits were last seen on opposite sides of the UK, one in Essex and the other in Somerset. It's a huge relief to hear they have both made it to the same spot in Portugal safe and sound.
"They're still less than a year old, so they probably won't attempt return to the UK to breed this year, but older godwits should be setting off right now."
She urged all birdwatchers to keep their eyes out for marked birds, and said Project Godwit birds had coloured leg rings to identify individuals.
Project Godwit is a partnership between RSPB and WWT, with major funding from the EU Life Nature programme, the HSBC 50th Anniversary Fund, Natural England and the Heritage Lottery Fund.