Brexiteers should not be worried about Britain having to follow European Union rules drawn up during a post-Brexit transition period as it is "technically very unlikely" there will be time for any to be introduced, a senior MEP has said.
Roberto Gualtieri, who sits on the European Parliament's Brexit steering committee, said the timescale was too tight for the UK to be forced to implement rules drawn up while it is not a member state.
This is because there will be European Parliament elections in 2019 and a new European Commission will not be in place until autumn that year, meaning it is unlikely there will be time for new legislation to be brought forward before the end of the transition of around two years.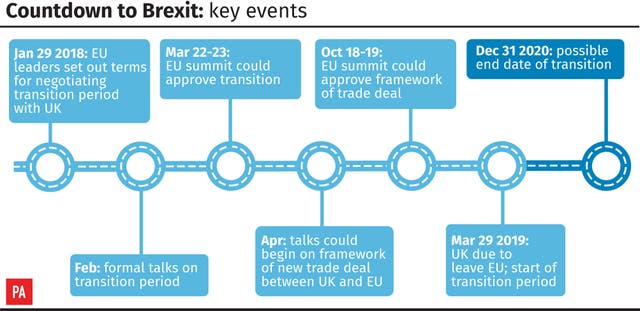 But Mr Gualtieri said the UK is likely to have had its say as a member state on any new EU rules that come into force during that period.
He told reporters in London after meetings with Theresa May and senior Cabinet ministers: "I suggest not to overestimate the situation.
"This problem is honestly, I think practically, is not so great.
"So I expect, I hope that the UK will not put into question this clause because it is reasonable and inoffensive."
The Italian MEP also said that during a meeting with Home Secretary Amber Rudd she assured him EU nationals living in Britain will be able to register to stay in the country after Brexit through a system that will be "as simple as signing up for an online shopping website".
But Mr Gualtieri warned the Prime Minister that the rights of EU citizens who come to Britain during the transition must also be maintained under free movement law.
Mrs May last week sparked a row with Brussels by insisting that those arriving after the Brexit date of March 2019 could not expect to enjoy the same rights as those who came before.
But Mr Gualtieri told reporters: "We cannot have a diminution of rights which goes beyond the EU acquis.
"The EU acquis is the EU acquis.
"If we grandfather the rights of freedom of movement of goods as if applying the rule that currently applies in the transition, we cannot on the contrary take out pieces of the rules which are in the union legislation in the transition."
Following Mr Gualtieri's meeting with Mrs May, a Downing Street spokeswoman said: "Mrs May and Mr Gualtieri discussed the Brexit negotiations, with both recognising the importance of the terms of the implementation period being agreed by the March European Council.
"The Prime Minister also set out her vision for a bold and close economic partnership with the EU in the future. Mr Gualtieri highlighted his appreciation of the Prime Minister's speech in Florence which he attended.
"On citizens' rights, Mrs May and Mr Gualtieri agreed that certainty should be given to people and businesses as soon as possible. Finally, they agreed on the importance of avoiding a hard border between Northern Ireland and Ireland.
"The Chancellor of the Duchy of Lancaster David Lidington and the Permanent Representative of the United Kingdom to the European Parliament Sir Tim Barrow also attended the meeting. Mr Gualtieri met with the Brexit Secretary David Davis, Chancellor Philip Hammond and Home Secretary Amber Rudd earlier in the day."