Top judges, police officers and former cabinet ministers will no longer be "automatically" given seats in the House of Lords after they leave high office, Theresa May has said.
The Prime Minister pledged to end the convention of an "automatic entitlement" to peerages for senior public servants as part of efforts to reduce the size of the bloated upper chamber from 792 members.
She also pledged to exercise continued restraint in making appointments and said all parties should encourage more peers to retire to reduce the size of the Lords.
Mrs May has appointed eight peers since becoming PM in July 2016, including three political appointments as ministers.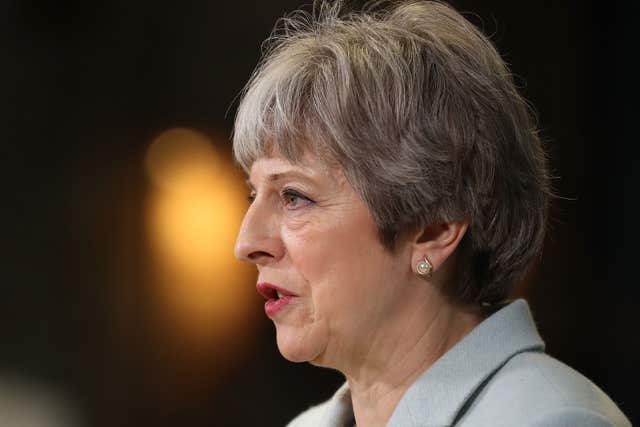 The PM's commitment also includes former cabinet ministers and other holders of high political office – meaning the likes of her predecessor David Cameron and his chancellor George Osborne would not benefit from the convention, although they would not be barred from getting peerages.
Mrs May was responding to calls by the cross-party Lord Speaker's committee on the size of the House for a "two out, one in" system to cut the number of peers by a quarter to 600.
The proposals come after criticism over the size of the chamber and the scale of expenses claimed by some peers who fail to play an active role in the Lords.
In a letter to the Lord Speaker Lord Fowler, the PM said she was making a "statement of intent" on reducing numbers now.
"I intend to continue with the restraint which I have exercised to date and, when making appointments, to allocate them fairly, bearing in mind the results of the last general election and the leadership shown by each party in terms of retirements," she said.
"I will also operate on the basis that there is no automatic entitlement to a peerage for any holder of high office in public life."
Since Mrs May took office, Jeremy Corbyn has appointed just one peer, former Liberty director Baroness Chakrabarti.
Across all parties, 24 peers have been appointed to the Lords and two hereditary peers elected since Mrs May took office, while 28 have retired, and 16 have died.
It has left the overall size of the Lords down by 20 members under her premiership.
Lord Burns, chairman of the committee, has recommended 139 departures by the end of the Parliament in 2022.
Lord Fowler, the Lord Speaker, said that Mrs May's statement meant that "the plan to reduce numbers in the House of Lords is on course".
"With this statement of intent, she has challenged the House and its members to deliver their part in reducing numbers," said Lord Fowler.
"The ability to reduce the size of the House is now within our own control. I intend to work with the political leaders in the House to agree how best to take this forward.
"I welcome the fact that the Prime Minister has responded so positively to the report's recommendations and I look forward to making further progress on reducing the size of the House on the basis of the commitments made by the other political parties during the House's debate on the report."